Sisk to build £150 million Santander state-of-the-art campus for 6,000 employees
John Sisk & Son and Osborne+Co are pleased to announce the signing of a contract for the construction of a new state-of-the-art campus for Santander in Milton Keynes. Osborne+Co have negotiated the project on behalf of Santander with Sisk to deliver the project fully fitted.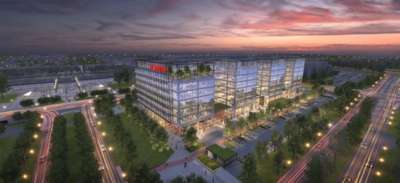 The new office, which represents an investment of £150m in the town, will be home to over 6,000 employees and will bring together staff from the bank's existing local office buildings into one location. Sisk will begin construction on site immediately with the programme to last 30 months.
The office is an environmentally sustainable building designed to achieve BREAM Excellent and WELL 'Gold' Certification, a measure of the building's impact on health and wellbeing of its occupants. Some of the features of this state-of-the-art facility will include, a fitness centre, cycle storage, and an employee rooftop walking and running track.
The new head office site is due to open by the autumn of 2022.
Sisk is currently active across a number of projects in the UK including, Wembley Park, LPTIP Leeds, M6 J10, Circle Square, Manchester and The Mercian, Birmingham.
Ajaz Shafi, Director, UK South, John Sisk & Son said:
"Sisk is delighted to be appointed by Osborne+Co to deliver the Santander Technology Hub in Milton Keynes. This is a landmark project comprising of circa 500,000 square foot of ultra-modern office space constructed over an expansive double basement, which will benefit Milton Keynes and the surrounding areas enormously. We look forward to working in partnership with all our stakeholders and in particular the local community to create a lasting legacy that we can all be proud of. Sisk has an impressive history of successfully delivering iconic and complex projects across our key sectors and geographies, and we look forward to this project becoming part of that legacy."
James Osborne, Osborne+Co, said:
"I am delighted to have reached commercial close with Sisk on this prestigious and highly challenging project. Osborne+Co and Sisk have worked tirelessly together for the past several months to reach this point. From the very first engagement the Sisk team at all levels has abided by the highest standards of transparency and have operated with a spirit of true partnership. Throughout the bid and negotiation process the Sisk team continuously strove to find ways to deliver more economically and improve buildability without compromising on the final quality of what we will deliver. I have been particularly impressed with the respect and partnership the Sisk team foster with the design team and the construction supply chain. This will stand us and our client Santander in good stead as we deliver this exciting new building."