At Royal HaskoningDHV, we believe in our people and aim to unlock their full potential as individuals and as teams. Diversity is not a goal, but rather, a way to reach our goals. We value talent in all its diversity because we believe diversity of thought leads to better results.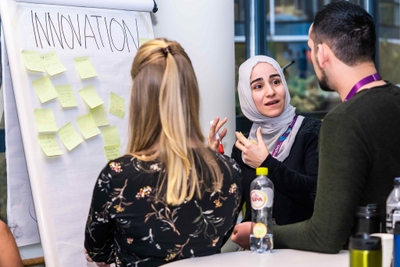 We are committed to providing an enriching working environment for all, which allows individual skills, strengths, and perspectives to be heard, used, and amplified, regardless of gender, age, sexual orientation, religion, physical ability, or nationality.
In 2021, our global Equality, Diversity and Inclusion (EDI) Lead, together with a network of EDI ambassadors, ensured EDI practices are implemented consistently, while taking account of local knowledge, cultural differences and political and socio-economic considerations.
Employee networks for disability, LGBTQ+ and diverse ethnic backgrounds have been launched to guide best practice and understanding of every individual's lived experience. Executive sponsors and allies drive impact throughout our business, striving towards progress and change to ensure inclusivity towards all employees.
Key steps & achievements
We are proud to have started our journey to reduce inequalities, overcome bias and unlock the power of diversity through new role models in our traditional industry and society.

These are some of the key steps and achievements in 2021:
We became partners with the Diverse Sustainability Initiative (DSI) to help transform and promote diversity within our industry. We also reaped the benefits of our partnership with Women in Engineering and Science (WISE), started in December 2020.
We secured more female leaders in director positions and, as a result, have strong female role models in positions where they can effect change and inspire colleagues.
We delivered unconscious bias training to teams and especially to managers and recruiters to create awareness of everyone's unconscious bias.
We committed to have equal representation in long-lists of recruitment, succession and development programmes. We aspire to having diverse selection teams and interview panels.
In the United Kingdom we launched our first mentorship programme for female employees, striving to develop women to access more senior positions and thus close the gender pay gap.
In Vietnam we launched a coaching programme focusing on softer skills, tailor-made to our Vietnamese senior female colleagues. This follows the commitment by our managing director in Vietnam to support the Women's Empowerment Principles in 2020.
We ran internal and external campaigns, often around special days like International Women's Day, to share what we are doing and to inspire others.
We signed the G20 Empower Women pledge. One of our programmes was named best practice in their Playbook 2021 Empowering Women to Lead the "New Normal" World.