We design develop and manufacture one of the largest portfolios of aviation components in the industry. Offering nose to tail technology, our systems and solutions can be found on over 73,000 aircraft worldwide, enabling safe, efficient and reliable flight. From aircraft braking to engine thermal management solutions, sensors, avionics, monitoring systems, seals, advanced composites, fire protection and detection, safety harnesses and ice protection; rumour has it that on an aircraft you are never more than 5 feet away from a Meggitt product.
Our pioneering printed circuit heat exchangers and innovative monitoring and control systems help supply energy to millions and millions of people around the world.
Specialists in advanced materials and thermal management, our life-saving solutions allow global defence teams to perform humanitarian and search and rescue activities, securing the safety of civilians and crews on just about every continent.
In fact, every day we enable the extraordinary to fly, to power, to live.
Personalised career planning
Our small annual intake of 15 graduates per year allows us to provide personal career support aligned to your background, aspirations and where you'll make the most impact. You will be assigned two mentors; one business mentor who will be a senior leader and one professional development mentor, to support you in achieving chartership in your chosen field. You will also have direct access to the executive committee from day one. From the start of your career, you will be expected to make a real difference, working on live projects with real experts, making a direct impact on the business, inspiring ideas and solutions. You will be part of a global graduate community, sharing best practice and building new social networks that will support you throughout your career.
In addition, your assigned mentor will help coach you to reach chartered engineer status if that's the direction you choose.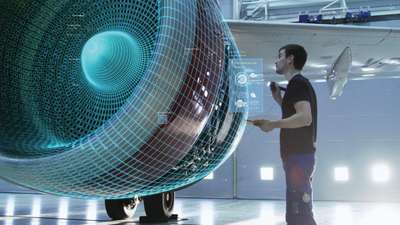 The programme
We recognise that you have the potential to be a future leader of our organisation, focused on building engaged and empowered teams and capable of maintaining our reputation for delivering innovative, customer focused technologies worldwide.
To help you achieve this, we offer extensive training and give you the opportunity to experience a variety of operations, engineering and logistics roles.
You will learn through doing and be expected to deliver working commercial programmes in real time from day 1 of enrolment. Working with our teams of experts you will explore all aspects of the business and learn about our full life cycle solutions, from product design to manufacture, supply, aftermarket and distribution solutions.
This is a three-year course, you will complete 4 training rotations, each 9 months in length where you will work on major programmes with some of the best minds in the business. You may be designing and optimising shop-floor operations, investigating the impact of digital manufacturing, establishing an effective supply chain network, supporting the development of new advanced materials capable of responding to our customers' demands for more sustainable flight and one placement will be non-technical; in strategy, marketing, sales, facilities or other departments, to stretch you and provide you with a rounded skillset. But most importantly, you will be receiving excellent training and support to enable to focus on where your interests truly lie.
You will have the opportunity to complete one or more of your job rotations overseas, so be prepared to travel and meet new friends.