Transforming urban spaces into extraordinary environments
Canary Wharf Group is the developer of the largest urban regeneration project in Europe.
We are a commercial and residential property company who, as owner, manager and developer, is responsible for the regeneration of 128 acres of the once-derelict Docklands district of East London. Our purpose is to transform urban spaces into extraordinary environments.
We have created a 24/7 city where people can live, work and thrive; enjoy the benefits of great transport links, access to green spaces and waterside living; and a wide range of amenities including an award-winning arts and events programme. Our retail offering comprises over 300 shops, including grocery stores, pharmacies, health clubs, bars and restaurants, all within 15 minutes' walk.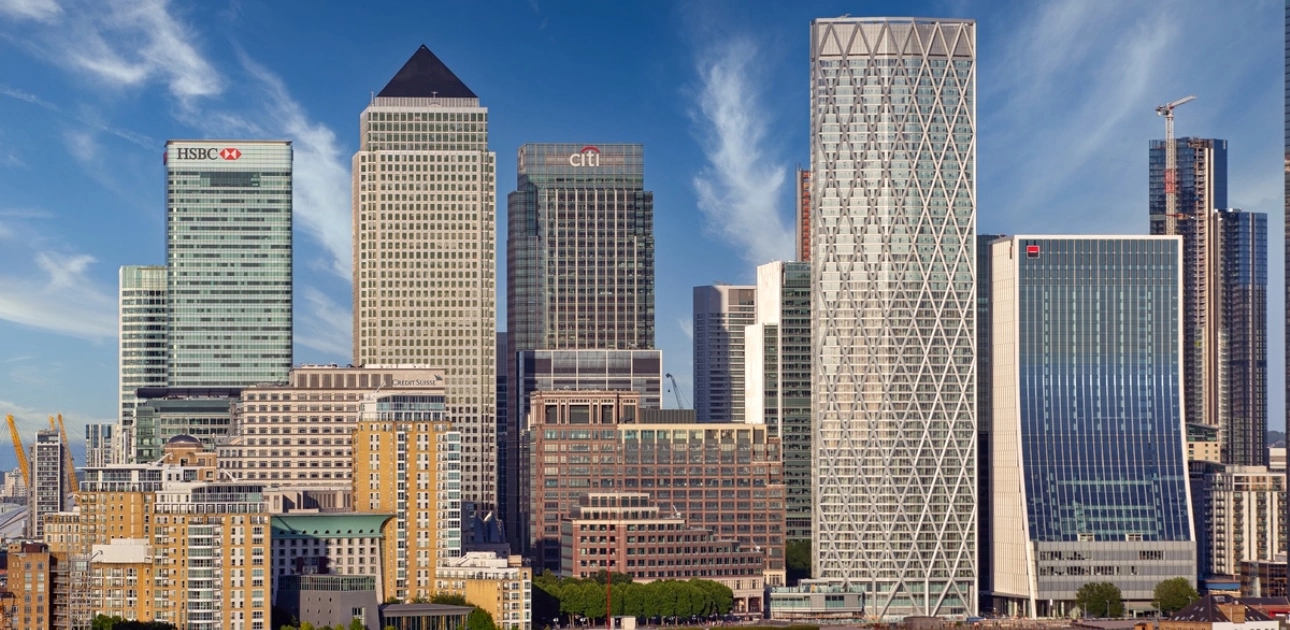 The Evolution of Canary Wharf
Canary Wharf as it exists today is testament to our ambition as a company, to design, build and manage the highest quality and most sustainable office, retail, leisure and living space in London — and to our close working partnerships with our tenants, neighbours, partners and suppliers. Having achieved this, we are now strongly focused on diversification.
A Broader Tenant Mix
We have significantly expanded our tenant mix, particularly into growth sectors like technology. We've already dedicated three floors, 76,000 sq ft, of One Canada Square to the tech community, Level39. With over 200 start-ups under its roof, it's the world's most connected tech community, bringing together the finance and tech sectors in a way that sparks collaboration and innovation
It's a Place to Call Home
For three decades, Canary Wharf has been a thriving hub of business, retail and culture that has shifted London's centre of gravity East. Canary Wharf's new district, Wood Wharf, will provide up to 3,600 new homes, 2 million sq. ft. of office space, 350,000 sq. ft. of retail space and over nine acres of public spaces, squares and parks. There will also be a GP surgery and a school. The site will create over 20,000 new jobs through hotel, leisure, construction, and recreational facilities. We have also built circa 900 homes at Southbank Place on London's South Bank, through our joint venture with Qatari Diar.
Ever More Connections
We have actively promoted and funded new transport connections for East London including the Elizabeth line due to open at Canary Wharf in 2022. Once open, Paddington will be 17 minutes away and Liverpool Street only 6 minutes away, and a 39-minute link to Heathrow airport. The Estate is currently well served with the Jubilee line, two Docklands Light Railway stations, buses and a Thames River Bus Pier.
Careers
We look for people who want to make a difference: people who support our culture of respect and inclusivity, high quality and exceptional performance; people who take ownership, work collaboratively and deliver first-class customer service.
We favour leaders who think about long term goals and create clear strategies which deliver best possible results. We want leaders who think differently and find better ways of working. We aim to become an employer of choice. We are supportive, always helping everyone to reach their full potential.
We are a member of the Gradcracker Five-Year Club
We have been a Gradcracker advertiser for at least five years. We recruit regularly and should still be doing so whenever it is time for you to apply for placements or graduate positions - make sure that you Follow us to be alerted to any of our new opportunities.