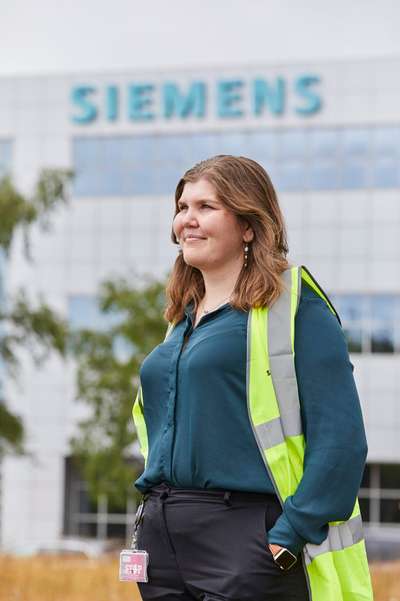 When I started here at Siemens, I wondered "How the hell did I do that?, How did I, get onto the Siemens Graduate scheme?" They must see something in me that I have yet to see in myself. Either way I'm sure I am not the only one who may have thought this. Even so, I am extremely happy and grateful to be starting my engineering career with such an amazing company.
When I started the scheme I only had an overview of what my year might entail and chatting to seasoned graduates I still wasn't overly sure. If that's the case, was there any other new graduates in the same boat? Has anyone documented and spoken about their year on the programme before for all to see? With these questions brewing in my mind I tried to answer some of them but I had no luck. That being the case, I decided to share what I have learned about the Siemens scheme along with some of my experiences from this year.
The Scheme
Siemens offered me a 2-year Graduate Development Programme (GDP) with a total of 4 different rotations.
Each rotation is about 5 to 6 months and is there to give me an overall view and understanding of how that part of the business works and operates.
Siemens certainly doesn't hold back on training. On top of the rotations, the GDP also offers a solid programme of modules which are designed to enhance my core and soft skills.
What I've learned
Every day, every rotation is different and all you can do is go with the flow. Be flexible and intuitive. Don't be afraid to ask the stupid questions! I did all the time because it helped me understand better what it was I needed to do.
Always ask what the acronyms mean because they just keep on coming! I think I am up to 400 now, and have had to create an excel spreadsheet to keep on top of them.
This first year has made me think a lot about my future and what I would like to do with it. It's a big decision deciding what I want to be when I grow up. But, I am 100% certain that I want to be an Energy Engineer because it is something that I am truly passionate about. Plus, who wouldn't want to be a superhero in training!
What did I do about it?
Well, I have 1 year left of my Graduate Development Programme and with a clear view of what I would like to do, I went to the Head of BPS and asked if I could join their team once I have finished the scheme. He took me a side, looked my straight in the eye and asked if this was what I truly wanted, trying to measure my commitment and sureness I suppose. Either way my answer was ever only going to be "yes". With that he was delighted and thrilled and offered me a position which is not yet defined.
With this news, I told my line manager (who is in charge of my scheme) that this is where I want to go once my scheme is up and that the Head of BPS was onboard. That being said, he has now tailored the rest of my graduate scheme towards it.
What's next!
With this new direction, my next rotation will be in Project Management working on projects associated with BPS. Ending with my final rotation being my future role as an Energy Engineer and I can't wait.