A consortium of industrial, tech, and engineering companies have pooled their skills and resources to co-develop medical ventilators for the National Health Service in the UK.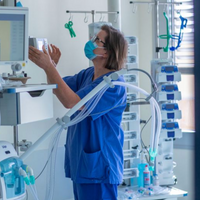 The "VentilatorChallengeUK" consortium is led by Dick Elsy, Chief Executive of High Value Manufacturing Catapult, a group of manufacturing research centres.
Members of the consortium include Airbus, BAE Systems, Meggitt, Ford UK, Rolls-Royce, Siemens and Unilever.
The consortium announced on Monday that it has been investigating different options for a Rapidly Manufactured Ventilator System over the past week, and will now "accelerate production of an agreed new design, based on existing technologies, which can be assembled from materials and parts in current production."
It said companies in the consortium have now received orders from the British government for over 10,000 ventilators. They expect production to begin this week, pending rapid approval by the Healthcare products Regulatory Agency after the final audit.