TPP has developed new functionality within SystmOne to facilitate the delivery of COVID-19 vaccinations. Our solution can assist with the three distinct phases of vaccine delivery: cohort identification, appointment booking and point of care vaccine delivery.
All of these tools will be made available within the existing SystmOne product for all of our users at no additional cost. If you are interested in being an early adopter of this functionality, see instructions at the end of this piece.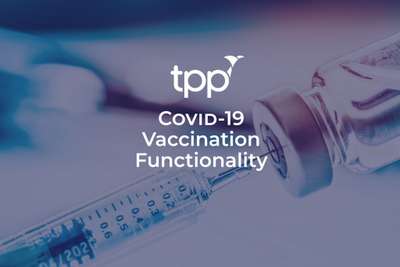 Cohort Identification
The Clinical Reporting tools within SystmOne are already being used to identify cohorts of patients eligible for Covid-19 vaccination. These reports are made available to coincide with updated guidance on cohorts 1-9 issued from the Joint Committee on Vaccinations and Immunisations (JCVI), Department of Health and Social Care, and NHS England. For example, TPP has this week made reports available for the identification of cohort 'six' (16 to 64 with underlying health conditions).
Building on these existing capabilities for cohort identification, TPP has also released (18/02) a new bulk registration function designed for users to register large groups of patients for vaccination in a single action. This capability bypasses the need for registration to be completed on a patient-by-patient basis, saving time and ensuring greater accuracy. It also allows for greater interoperability between organisations as any system can generate the CSV files required for bulk import into SystmOne.
There is also a new screen within the system which provides the status of all invitations and functionality for exception reporting to identify patients who have not yet been vaccinated.
Appointment Invitations
TPP has developed a range of new tools to assist users with inviting patients to attend their Covid-19 vaccination appointment.
After completion of the cohort identification phase, users can send bulk appointment invitations to identified patients. Each patient will receive an SMS or email message including a unique link to SystmOne's new appointment booking website. Organisations enter their own availability rotas which are then published on the website as appointment slots available for booking. There is also the functionality to control which groups of patients can book into certain appointment rotas. This provides users with the ability to separate out different groups based on whether the appointment is for first or second dose, or the manufacturer of the vaccine, for example.
Once patients authenticate their identity by entering their date of birth, they can choose from the available slots and confirm their appointment. This process would also previously have been completed on a patient-by patient basis but this bulk capability will save time and quicken the pace of vaccine delivery.
Point of Care administration
TPP is already providing the point of care solution for vaccination recording to the entire Health and Justice Service across England. We are currently going through NHS assurance for point of care for PCNs and mass vaccination centres.
Our solution helps users to manage these clinics and record a cohort of vaccinations quickly and accurately using vaccine templates that would outline key details such as vaccine type, the dose and batch number.
TPP's Clinical Director, Dr John Parry said, 'We are excited to be able to develop this new functionality in conjunction with a number of our primary care colleagues. I am also confident that we will be in a position in the near future to deploy SystmOne to PCN vaccination centres for recording data at the point of care.
'I am also particularly excited that we have a number of exciting developments coming up to improve the tools available for clinicians to communicate effectively with their patients.'