Are you looking for the chance to expand your knowledge, learn from others and create innovative solutions across a range of disciplines? At Partner Electronics we can provide all that and more.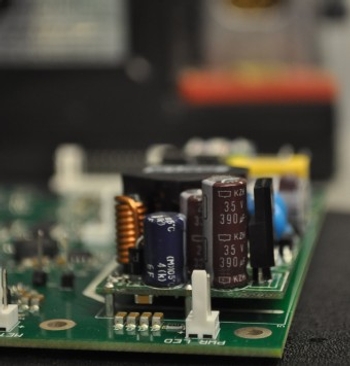 We're looking for an Electronics Engineer Intern to join our team.
You will spend your summer working on developments which directly support client projects across a number of areas – you could be working on consumer electronics, telecoms or defence.
Our teams offer both hardware and software specialisms, providing you with the support you need to develop your knowledge and skills, whatever your area. If you have a specialism we'll help you develop it, and - if you're still exploring - this is an exciting place to do just that.
We also believe that a great engineer should have commercial knowledge, understanding what clients are looking for and why; to enable this, you'll be involved in the design and development process as it happens.
There's a lot more to tell you about what we can offer and who we're looking for, but before we get onto that here's what Andrew said: "Here at Partner they have you working on projects right from the start. From gaining hands-on experience right from the get-go, I can honestly say I have learned more in two weeks at Partner than I have at other companies."
What You'll Be Doing
Working with your team to support and assist in design projects
Creating, testing and assembling prototypes
Working with our team of experienced engineers, you'll help as we develop innovative products to be commercially successful. Currently we have projects ranging from smart sensors for building control applications, through hazardous location electronics to precision sensors for medical instruments. You'll can be part of the team that makes that happen.
Successfully completing the duties and tasks we ask of you in this internship, you'll have the opportunity to develop your area of interest with other engineers in real world R&D.
Creating quality designs that enable people to transform their ideas into real products.
What We Need From You
A strong understanding and practical ability with electronics
Good maths skills relevant to electronics and physics
Excellent verbal and written communication skills
Strong time and task management focus
Be working towards a good engineering degree (2:1 or above) or equivalent
Your own transportation (e.g. car and driving licence)
British/EU Citizenship – no work permits and no known reasons to fail security clearance
We need you to have an inquisitive mindset, positive approach to problem solving and an understanding of the importance of process. You need to be adaptable and willing to learn quickly, able to express your own ideas as well as listening to and learning from those of others.
We're looking for someone who will add to our team
You'll also need a way of getting into our office in the heart of the Northamptonshire countryside, it's beautiful but you can't rely on the buses.
Why Would You Choose Partner Electronics?
Competitive Salary
Pro-rata holiday
Coaching, mentoring and training
Supportive expert engineering team
A great working environment
We're a small company committed to building up each of our members because that's how we are successful.
We're a team building futures
There are many team social events and also the opportunity to get involved in interests in the local community.
While Silverstone might be best known for its race track – home of the British Formula 1 Grand Prix – the area is also recognised as a home for engineering and technology with the vibrant Silverstone Technology Cluster forging links across to neighbouring counties Oxfordshire and Cambridgeshire.
As a rural location, public transport can be a problem, but it's a wonderful place to live and work with easy road links to London and Birmingham.
As Shaun said: "everyone has been incredibly friendly and helpful. I have also hugely enjoyed the socials hosted by the firm, and getting to know my new colleagues outside of the office."
We've signed the Gradcracker feedback pledge.
(This means that we will supply feedback if requested after an interview.)
1e127ede32d8f816eacfb0aed73cee11