Are you interested in a career in scientific research?
At NPL, we are looking for graduates with a real passion for tackling some of the biggest challenges in industry, energy, the environment, and healthcare to join our Science and Engineering groups.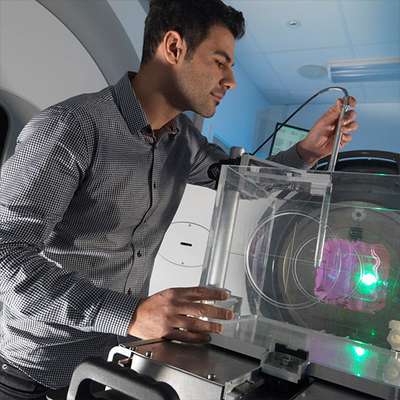 As a Research Scientist on the two-year NPL Graduate Recruitment Programme you will be matched with one our exciting departments, based on your background and interest, and will undertake 2 or 3 rotations across the groups of your department.
These rotations will fast track your development through a mix of on-the-job learning, training, and networking and aim to respond to the national challenges of:
Prosperity: delivering measurement solutions to maximise innovation and prosperity in advanced manufacturing
Security and resilience: managing the risks to our national security and resilience infrastructure
Environment: science-led measurement solutions for environment climate action and a sustainable future
Health: supporting healthcare, life science and the bioeconomy
You will be based at our Teddington site* and will use your analytical and problem-solving skills to work on topics relating to the national challenges. You will be working on either laboratory, or data-based projects through practical and theory-based learning. Once you have completed the two-year programme you will join us as a permanent Research Scientist, with a working knowledge of complementary areas.
*We will consider candidates who would like to be based from our Strathclyde hub or one of our other regional hubs.
Graduate rotations are available in the following departments which can be viewed here on the hub:
Time and Frequency
Data Science
Quantum Technologies
Electromagnetic and Electrochemical Technologies
Chemical and Biological Sciences
Medical, Marine and Nuclear
Atmospheric and Environmental Science
Thermal and Radiometric Metrology
Materials and Mechanical Metrology
Our expectations
In this role, you will be able to:
Work collaboratively as part of our teams to help us achieve our goals
Use logical thought processes to design and follow a scientific work plan
Write technical documentation and scientific publications, both collaboratively and independently
Analyse complex data sets, such as satellite imagery or instrument measurement readings, with potential to develop new software tools
Learn about and then follow established protocols for either laboratory or data processing
Work within established Health and Safety and Quality systems to safely produce accurate and repeatable results
Build your network and develop new skills by supporting our Community Activities including supporting Outreach activities and our diversity and inclusion initiatives
We are now working in a hybrid way, with a mix of remote and office working. We strive to offer a great work life balance - if you are looking for full time, part time or flexible options, we will try to make this work where it is possible.
About You
For this role we encourage applications from individuals who can complement our existing teams and bring fresh perspectives. We believe that diversity of perspective is key to sparking the creativity needed to respond to the challenges at NPL and are seeking individuals, particularly women, those with disabilities and minority ethnic candidates, who can bring their backgrounds and personal experiences to the team.
You will have achieved or be on target to achieve a degree, or equivalent in Physics, Chemistry, Maths, Engineering, Biological Sciences, or a related field
You have experience of working in a team to achieve a common goal
You can communicate clearly and collaborate with colleagues in your team
You enjoy problem solving and can demonstrate critical thinking, assessing the pros and cons of your approach
You have evidence of writing scientific technical reports during your studies, or are willing to learn if your experience was acquired in a different setting
You can demonstrate the ability to complete work which requires a high level of attention to detail
You understand the value of providing good customer service to both internal and external customers, wanting to meet and exceed customer expectations through delivering high quality work with proactive communications
You are committed to personal development and taking on learning opportunities to get the most from the role
You must be eligible to live and work in the UK at the time you start employment (we cannot provide visa sponsorship at this time)
If it sounds like this is the role for you, we look forward to hearing from you!
lease submit a cover letter with your application form containing the following:
What attracts you to the NPL Graduate Programme
What sets you apart from the other candidates
Examples of how you have demonstrated any of NPL's Values in Action
Your preferred Department/s from the list above
What we offer
Competitive starting salary of £27,405
Performance related pay review in 2024 (non-contractual)
27 days' annual leave + bank holidays
6 – 12 month tailored placements for the duration of the programme
Pension scheme with a minimum 5% employer contribution (9% employer contribution if you decide to contribute 6%)
Social and networking events with other graduates on the programme
Paid disability leave
Access to a wide array of learning and development opportunities
Employee assistance programme
Interest free loans (Up to £5k for season ticket loans, house purchase deposit and rental deposit)
Bike4Work scheme
Recognition awards
Civil Service Sports and Leisure discounts
Free parking on site
Located in south west London, our main site in Teddington is one of the most advanced metrology facilities in the world
About the process
Application form with cover letter
Your first interview will be conducted via Microsoft Teams and will last up to 30 minutes
If selected you will be invited to an assessment centre, which will be held in person at our Teddington site in Spring 2023
If successful, we look forward to welcoming you to join us on the 5th of September 2023
1e127ede32d8f816eacfb0aed73cee11