About The Role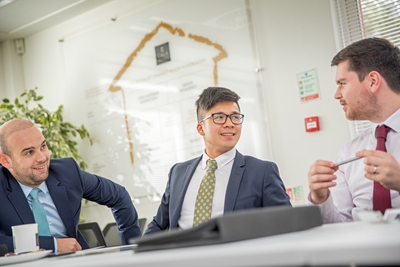 Our Graduate Development Programme is a two-year learning programme with an aim to develop well-rounded specialist graduates in a chosen business area.
You are a permanent employee from day one and have a real opportunity to make an impact at Cala through executive sponsored projects as well as completing two rotations across the wider business.
You will be given the learning opportunities to develop your core skills and help set you up for success, as well as having a dedicated mentor and support from the wider business.
The programme includes:
A three-day formal induction
Classroom and virtual sessions covering key stages in the construction lifecycle, and key business skills such as commercial awareness and influencing
Interactive group projects working with a number of other graduates in disciplines across the business allowing you to build a strong network
Networking opportunities with senior managers and peers
One-to-one support from line managers, mentors, recent graduates, and industry professionals
Charity fundraising opportunities
As a Land Graduate, you will join the Land and Planning team based in the South Home Counties office in Dorking. To be an effective member of the land team you will have to be a confident and adaptable self-starter who enjoys interacting with a range of people.
The Land and Planning team works closely with all the other departments on a daily basis so a willingness to learn and the ability to balance internal and external work-streams will be a necessity.
You will gain a deep understanding of Cala's product and specific land requirements, quickly becoming a representative for the SHC business in a competitive land market.
With support from the team, you will develop the ability to critique all land opportunities from the early stages including reviewing local and national planning policy, undertaking a deep review of the prevailing sales market, developing a knowledge of the legal process, and understanding development constraints within the build process.
In addition to the project specific work, you will become a key member of the team helping to ensure that the planning databases and site opportunity registers are populated and current, ensuring all land opportunities are picked up at an early stage.
You will also help to organise and attend regular social events with both agents and consultants promoting Cala's external presence in the market.
Our early talent programmes have the following recruitment process:
Apply online with your CV
Video interview via Teams with a member of the People team
Discovery Day, which consists of a group exercise, a presentation and a discipline specific interview
Please note that depending on the volume of applications receive, we may close this advert ahead of the closing date.
About You
It is an exciting, dynamic, and fast paced job so strong interpersonal skills, initiative, and a willingness to learn are paramount.
A degree in Real Estate, Planning, Project Management or similar would be useful, but not essential, given the nature and scope of the land buying role so a range of backgrounds will be considered.
Rewards and Benefits
Private Medical Insurance
Employee Assistance Programme
Virtual GP
Generous Pension Scheme
Bonus/Commission
Employee Discounts
Long Service Recognition
Generous Holiday Allowance (including holiday buy/sell and carry forward options)
Personal Development
... and much more!
We've signed the Gradcracker feedback pledge.
(This means that we will supply feedback if requested after an interview.)
1e127ede32d8f816eacfb0aed73cee11