About Us
The Cala Group is a major UK housebuilder and leading provider of desirable new homes across the South of England, the Midlands and Scotland.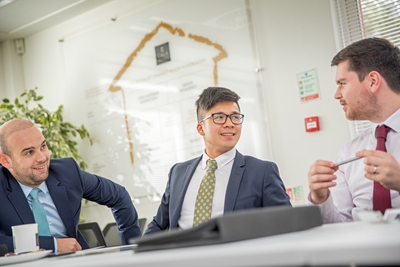 Driven by a mission to create vibrant and sustainable new communities, our homes are characterised by exceptional design and sector-leading build quality, and we have a passion for providing our customers with a great home buying experience. This is an exciting time to be at Cala.
Our approach to sustainability and technology is undergoing a dramatic transformation, and we're aiming to create an industry-leading experience for both our staff and customers.
At Cala, you can expect to be part of an environment which allows you to do meaningful work, while offering opportunities for personal growth.
About The Role
Our Graduate Development Programme is a two-year learning programme with an aim to develop well-rounded specialist graduates in a chosen business area.
You are a permanent employee from day one and have a real opportunity to make an impact at Cala through executive sponsored projects as well as completing two rotations across the wider business.
You will be given the learning opportunities to develop your core skills and help set you up for success, as well as having a dedicated mentor and support from the wider business.
The programme includes:
A three-day formal induction
Classroom and virtual sessions covering key stages in the construction lifecycle, and key business skills such as commercial awareness and influencing
Interactive group projects working with a number of other graduates in disciplines across the business allowing you to build a strong network
Networking opportunities with senior managers and peers
One-to-one support from line managers, mentors, recent graduates, and industry professionals
Charity fundraising opportunities
The start of this graduate programme will be September 2023.
CALA Homes (East) are currently looking for a Landscaping Graduate based in our Falkirk office.
As a Landscaping Graduate, you will be part of a multidisciplinary team of architects and planners within the Cala East Planning and Design Team. You will report to the Planning and Design Manager / Director.
About You
To apply for this role, you should have a degree in Landscaping / Landscaping Architecture as well as experience using CAD (Computer Aided Design), Excel and Desk Top publishing software. You should also have a clean UK driving license. Your key responsibilities will include:
Produce landscape design layouts to support planning applications and land bids.
Produce detailed landscape plans and planting schedules to allow for the tender of landscaping works (hard and soft)
Produce detailed landscape proposals and planting schedules for show home gardens/areas.
Support planning applications by liaising directly with local authorities landscape consultees.
Produce landscape planting schedules for site. Monitor planting and hard landscaping to ensure delivery on time and to the correct specification.
Liaise directly with our landscape subcontractors and landscape architectural consultants.
Support and input into our biodiversity, sustainability and ecological submissions to local authorities.
Attend public consultations and presentations to local authorities.
Our goal is to be the favoured employer in our industry and beyond. We encourage applications from those who want to be part of a culture where they can thrive, feel a sense of belonging and be comfortable being themselves at work.
How to apply
To apply, please click the button below and attach your CV and covering letter. Please note if these are two separate documents you will need to attach them as a zip file.
Our early talent programmes have the following recruitment process:
Apply online with your CV
Video interview via Teams with our Early Talent Team
Discovery Day, which consists of a group exercise, a presentation and a discipline specific interview
The closing date for this role is Friday 24th February. Please note that depending on the volume of applications receive, we may close this advert ahead of the closing date.
Our graduate salary starts at £26,000 per annum. Please note, this may vary by location where the living cost is higher.
Rewards and Benefits
Private Medical Insurance
Employee Assistance Programme
Virtual GP
Generous Pension Scheme
Bonus/Commission
Employee Discounts
Long Service Recognition
Generous Holiday Allowance (including holiday buy/sell and carry forward options)
Personal Development
... and much more!
We've signed the Gradcracker feedback pledge.
(This means that we will supply feedback if requested after an interview.)
1e127ede32d8f816eacfb0aed73cee11