U-POL is a leading supplier of bodyfiller, coatings, aerosols, abrasives, polishes and consumables to the car repair market with a market reputation for high quality products and sales to over 100 countries. U-POL manufactures in the UK at its Wellingborough site and has additional warehouse facilities in the USA and Russia.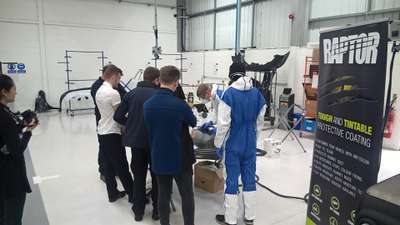 Job Purpose:
As an active member of the R&D team the successful candidate will formulate new products under the supervision of a team leader. They will typically be working on 1 – 2 projects with significant business impact and will complete all relevant laboratory work and testing related to these projects.
One initial project will be to assist in maintaining the accreditation of the organisation's quality management system in accordance with ISO 9001:2015. To support the Quality and Regulatory Manager in ensuring that the quality system is maintained and effective by carrying out audits and ensuring documentation is relevant and up to date. Additionally, aid in the continual improvement of the system and monitor internal and external non-conformities raised to ensure completion in a timely manner.
The role is a perfect first role for a graduate completing their studies in 2021.
Principal Accountabilities:
Formulation of paints and associated products in our company laboratories under the supervision of a team leader.
Making suggestions on how to improve products based on observations in the laboratory.
Testing formulation performance using standard test methods.
Accurately recording and reporting data related to product performance and using this to describe product performance.
Supporting user trials in the field, both in the UK and potentially internationally.
Providing technical support to customers, both external and internal (eg. marketing and supply chain).
Pro-actively manage their own development to increase their own skill set and competency.
Support the implementation, maintenance and continual improvement of the organisation's quality management system to ensure that accreditation of ISO9001:2015 is maintained.
Ensure that all in-house systems and procedures are updated, revised, modified and issued to ensure they satisfy the requirements of U-POL and ISO9001:2015.
Assist in the coordination and timely completion of the organisation's audit plan, including carrying out internal process audits, system audits, supplier audits and spot checks.
Ensure that all corrective actions from audits are documented, tracked and completed in a timely manner and ensure that the root cause of the non-conformities is determined.
Support the Quality and Regulatory Manager in driving the correct behaviour regarding the quality system and help educate staff on how the system should be used and updated.
Coordinate the review of existing quality procedures and quality procedures associated to any continuous improvement initiatives within the organisation to ensure they satisfy the requirements of ISO9001:2015.
Operate and monitor the external complaints system to ensure that root cause analysis is completed on non-conformities in a timely manner to minimise repeat occurrences.
Perform other administrative duties that are required to support the organisation to meet its quality objectives e.g. updating the training records database or collating data for weekly reports.
Person Specification:
Degree qualified in chemistry and/or some comparable industrial experience.
Numerate, analytical and IT literate.
Process driven with a continual improvement mindset and high attention to detail.
Highly organised and self-motivated with the ability to drive improvement actions to completion.
Company Benefits:
25 days' paid holiday
Private healthcare
Company pension fund
Bonus scheme
Cycle to work scheme.
A starting salary of £22,500 will be offered for this role.
We've signed the Gradcracker feedback pledge.
(This means that we will supply feedback if requested after an interview.)
1e127ede32d8f816eacfb0aed73cee11