Sabrina graduated with a Bachelor's in Computer Science from Concordia University in 2019. In August of the same year, she joined mthree as a developer at a leading investment bank.
We spoke with Sabrina to find out how she became a programmer and what it's like being part of an agile team.
HOW DID YOU COME TO WORK IN TECH AT AN INVESTMENT BANK?
"After I finished university, I managed to keep my intern job so I could take my time looking for another role. I wanted to wait for something I was really passionate about, and not just jump on the first job that came along.
Now that I've joined I'm finding it really interesting and very diverse. The people who I work with are very smart. There's lots of opportunities to learn especially since it's delicate work. You don't want to make a mistake that could cost the company millions of dollars!"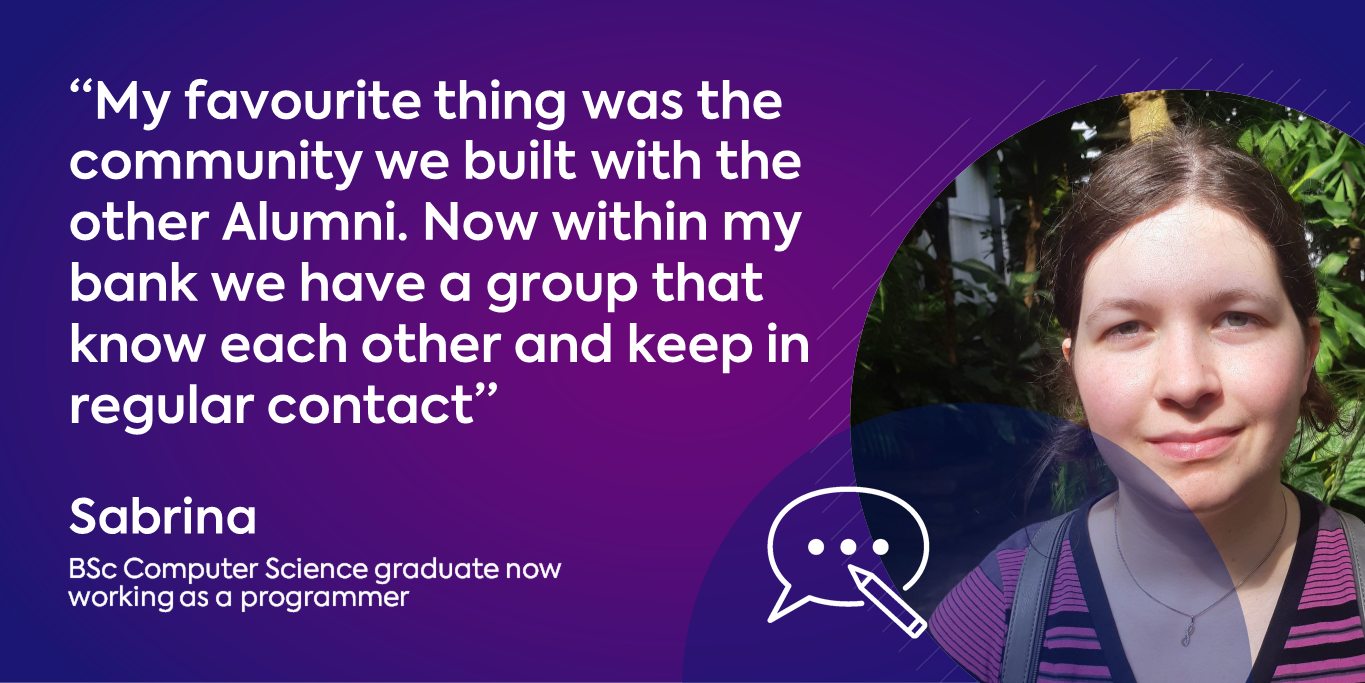 WHY DID YOU CHOOSE MTHREE?
"When mthree approached me about the role, I was impressed with the clients they work with.
I also liked the fact there would be training; it gave me time to adapt so I wasn't going straight from university to working. I found the training really great and it helped to reinforce the important basics.
My favourite thing was the community we built with the other Alumni. Now within my bank we have a group that know each other and keep in regular contact online.
I felt more comfortable when I started as I had knowledge that would help me along the way, instead of arriving there and knowing nothing."
WHY DID YOU CHOOSE COMPUTER SCIENCE AS A CAREER?
"I decided to join a computer science program at university on a whim. I was actually going to become a speech therapist. A month before we handed in our applications for university, I changed my mind. I went into computer science, knowing absolutely nothing about programming and I actually ended up liking it. It was really fun.
I liked it because of the creative aspect; I'm a really creative person. I've dabbled in a lot of different types of art like sculpting and painting and I found computer science was very similar. You're starting from nothing and creating something that can be beautiful and useful.
People are going to use it to make their everyday lives better. I'm also a language fanatic and learning new languages, especially in computer science, was really interesting."
WHAT DOES A TYPICAL DAY LOOK FOR YOU LIKE AS A COMPUTER SCIENTIST?
"My day starts off by checking my emails. My team is very agile and so we usually have a team meeting to know what everyone's up to.
My favourite part of my job is learning new programming concepts and furthering my knowledge. Even though I'm a junior, my team is good with giving me diverse tasks that are based on my skill level. I started off with simple tasks, and now they're getting more and more complicated.
I'm always learning something new, it's never repetitive."
WHAT DOES AN AGILE TEAM LOOK LIKE?
"I was lucky enough to see the progress of going from non-agile to agile. We decided to have sprints to help us be more efficient. Each sprint lasts a month; we have two weeks of development, a week of quality assurance and then we release.
We have meetings every sprint to decide what tasks we're going to do and give points based on how much work we think they're worth. As we go through the sprint, we all pick-up task as we go along and add more if users report any bugs or issues.
It's very structured now, we know months ahead what we're releasing and when. It becomes much easier to answer questions from users as now we actually have answers."
WHAT ADVICE WOULD YOU HAVE FOR GRADUATES THAT ARE CONSIDERING JOINING MTHREE?
"Go for it. I think it's a really good opportunity. If the financial industry is something that interests you then it's worth joining. There's a good sense of community in Montreal. When you get a job there's usually other graduates joining too so you don't feel alone."