Where can being an mthree Alumni take you? What happens after the graduate programme is finished? Get the answers to your questions in our new series of interviews.
In our 'where are they now?' series, we speak to some of our very first Alumni about what they've been up to since finishing the Alumni graduate program. Read their stories, get career advice and discover the impact being an mthree Alumni could have on your career.
For the first in the series, we're spoke to Ruby. She graduated with a BSc. in Mathematics from Nottingham Trent University in 2015. She completed the Alumni program and is now an Assistant Vice President in Equity Production Support at Bank of America (BofA).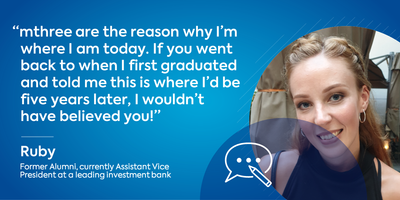 She talks to us about:
Working in a tech role coming from a non-tech background
What it's like working in a male-dominated industry?
What it's like working in production support
The advice she has for graduates starting out in their careers?
Tell us a bit about yourself
"After I graduated in 2015, I didn't know what I wanted to do.
Initially I was going to stay at home and work for a big aerospace company. Then my cousin heard about mthree and put me in touch with a friend that worked as a recruiter there.
I had lots of chats with the recruiter and then decided to come down to their offices in Canary Wharf.
I was put forward for a new role mthree had with Bank of America. I came to London for the interview and within a day they called and said they wanted to take me on.
It was a total game changer!
I didn't think I'd ever get an opportunity like this because I didn't go to a Russell Group university. I wasn't even applying for grad programs as I thought I wasn't going to be considered! I believe BofA took the plunge with me and it has been quite an experience. I was put into high-touch portfolio trading production support and have been in the same team since. I'm loving it and my team are great. I wouldn't change anything."
How did you find the transition into a tech role coming from a non-tech degree background?
"While I was at uni, I wasn't considering investment banking as a career option. It meant I hadn't done much research before joining mthree which made the transition more challenging.
Before I went on site at BofA, I had training with mthree which was brilliant. I was put in a team with people who were already on-site, their insights about what I could expect were really helpful.
Once I joined my team at BofA, there were some concerns as I didn't have a tech background. But those were quickly dashed as I applied myself to everything and I threw my all into it – before I knew it I was using the squawks and speaking with the traders!
I believe that while a technical background helps, you can still learn it all after university.
mthree were great with providing me additional training throughout my time on the program. Anything that BofA wanted me to get trained in, mthree organised it. I had SQL and FIX Protocol training which are my strongest skills now."
What was your career journey from alumni to assistant vice president?
"Even though I was an mthree employee working at BofA, they never saw me any different. I wasn't a 'contractor' and they really wanted me to get involved.
At the end of the program when I was taken on as a permanent employee, my manager really pushed me to take the next step and become Assistant Vice President. He was even talking about where I could be in three years' time!
My manager is always thinking about what projects I can get involved in and how I could be rewarded for them too.
I was put on a few projects and it was up to me to drive them. When you have full responsibility of where they're going to go, you have to be 100% sure that if you make changes, it isn't going to break the system.
It was also down to me to host multiple meetings and bring certain people together in order to progress to the next stage of a project. Having meetings with senior people can be intimidating, even to this day I have to be prepared for everything!
You have to accept that you're going to make a mistake and cause problems, it's the type of job we do. You're not going to be right all the time.
Every single day, there's something new that surprises us. Every day is different and we're constantly learning about our applications."
What's it like working in a male-dominated industry?
"If you speak to my team, they would say having more women makes a massive difference to the team dynamic.
The guys are very positive about having a woman on the team, it gives a different opinion on everything.
There were lots of old processes and systems that had never been challenged. So when I joined I brought in a fresh perspective and started questioning everything. It meant we found better ways to perform processes which resulted in improved efficiency.
I also get involved in different events at work and I like to get the team get involved; they might not have done so if it wasn't for me being there."
When you look back at your career so far, are there any highlights that stand out?
"When I was only seven months into the job, the Brexit transition began. It caused a huge volume of trades so the team were working into the night.
Our team had the focus of the senior leaders in the business because our application was immediately impacted by market trends. But because our team were great and well trained on our flows, it worked out fine."
What advice do you have for grads who are considering banking and tech as a career option but they're unsure if it's right for them?
"I read things every day that technology is the future of trading. The systems are being automated and the algorithms are advancing every day. While for some people it could mean losing their job, there'll always be a role like mine to support those systems.
From the perspective of being a woman in tech, BofA have included me from day one. I've never had an issue with being the 'woman' and feeling singled out.
Having a community around you helps a lot when you first start.
During my mthree training, I was lucky enough to meet other grads. Even to this day, one of them is my best friend and I'm going to her wedding next year!
All the social events that mthree put on were great and you got to interact with other grads working at investment banks."
What does your average day look like?
"If I'm on our 7am-4pm shift I get to work at 7am. Then the time between 7am and 8am is crucial.
If there are any new initial public offerings (IPOs), we have to get everything ready in the system before the European markets open at 8am.
The traders have to be able to trade in the market immediately with no issues. Overnight a lot can happen with our applications so we have to check that the health of our systems is up to speed in the morning.
Between 8am- 4.30pm is business as usual, so we're picking up emails and looking at service requests.
During the day I use Unix and SQL the most. I use Unix to check all FIX messages between systems from clients and SQL when client's request information on how much they've traded. I really enjoy looking at FIX messages between all of our applications, it helps you understand the flow between systems which is crucial for my role."
What advice do you have for a graduate who's about to start their first role in production support?
"Find a mentor or someone you can speak to outside of your team. I have a couple of people that I can have a coffee with and chat about my role and get advice from.
We often have opportunities to meet with senior management to discuss certain topics which you think should be presented and discussed with a wider audience. Having relationships with people outside your team can be extremely encouraging and Itit also means you get other people's perspective on situations which can be useful.
Make sure you go to social events too. Even if you're not a drinker, or you're not keen on the event, it's an opportunity to meet people and learn about other aspects of the business. You'll end up seeing those people again and it can open up opportunities."
How has mthree impacted your career?
"mthree are the reason why I'm where I am today.
They gave me the opportunity from the very beginning. If you went back to when I first graduated and told me this is where I'd be five years later, I wouldn't have believed you!
I never thought that I would be a person who other people would rely on or trust as much as they do now.
I'm being put on the same level with my colleagues who have been in the bank for 15-20 years. They're very well respected and are such good role models, so to even be compared to them is a massive compliment!
I'll be forever grateful to mthree for giving me the opportunity."