Princes Countryside Fund
We challenge our graduates to raise as much money as possible for our chosen charities as part of Bakkavor's community commitment. In 2016 our graduates raised over £5,500 for the Princes Countryside Fund with the First and Second Years going head to head throughout the year to raise the most money and win a day out of the business doing a fun team building activity.
The money was raised through completing a 75 mile bike ride around our Lincolnshire sites and participating in the Great North Run dressed as pizzas!

The Prince's Countryside Fund was set up in 2010 by HRH The Prince of Wales to support the people that live and work in our rural communities and secure a brighter future for the British countryside. Each year The Prince's Countryside Fund provides more than £1m in grants to projects across the UK that have a long term positive impact on rural communities, helping those that live and work there to sustain the countryside.
The funding helped raised by companies such as Bakkavor provides grants across the UK that support the objectives of The Prince's Countryside Fund.
To develop thriving rural communities by improving service provision in rural areas.
To transform rural livelihoods by supporting rural enterprise and farming businesses.
To support our farmers of the future by providing training opportunities for young people and unemployed people.
To support farming crisis charities through a dedicated emergency funding stream.
As one of our graduates you too could play a major part in our community commitment.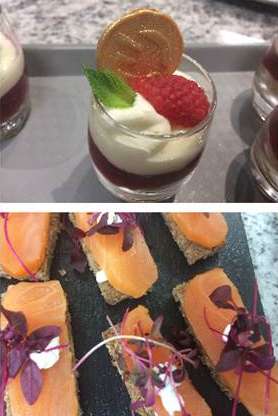 First years AMS host champagne and canapé fundraiser
Congratulations to our first year AMS graduates who successfully hosted a champagne and canapé fundraiser at our Fitzroy office for their chosen charity, The Prince's Countryside Fund.
Guests were treated to a seasonal canapé menu, entertainment from an award-winning young magician and an exciting silent auction with numerous prizes ranging from a signed Michael Owen football shirt to food hampers and gin tours. The menu was entirely designed and hand-made by the graduates with assistance from our Executive Chefs, Jason Elvin and Trevor Holmes.
Claire Saunders and Jo Chiffe from the Prince's Countryside Fund also attended and gave an informative talk about the Prince's Countryside Fund and the joint initiatives that have been undertaken with Bakkavor.
With the generous donations and bids placed on the night, alongside other fundraising efforts throughout the year, the First Year AMS graduates are now well on their way to raising over £4,000 for the Prince's Countryside Fund.
Congratulations to all those involved in making the event a great success.