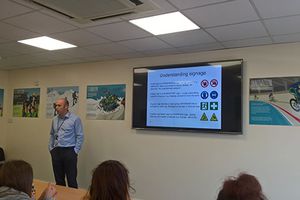 As part of our partnership with the Prince's Trust, Bakkavor hosts 'World of Work Tours' that are aimed at giving students within the Trust's XL Programme first-hand experience of working in the food industry.
To date, we have hosted over 120 young people at seventeen World of Work tours. Volunteers from across our businesses participate in the tours to inspire and educate young people about our company, the dynamic, fast-moving fresh prepared food market in which we operate and the diverse range of career opportunities there are available.
Earlier this year Jason, our Senior Development Chef from our London Head Office, hosted students from Epping Forest College to teach them about food safety, food hygiene and healthy eating. The students experienced a lively cooking demonstration during which they learned basic cooking techniques and were able to then use these new techniques by preparing and making a healthy lunch for all to enjoy.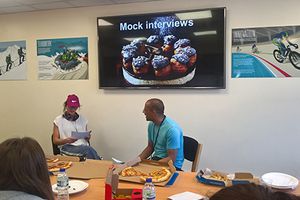 Most recently, our Bakkavor Pizza & Bread business in Crewe held its second World of Work Tour for students from St Peters Church of England Academy in Stoke. Our Site Manager shared information about the products Bakkavor manufacture, who are customers are and the strong position we hold in the fresh prepared food market. The students were then shown around the Crewe factory which provided them with the opportunity to see the products being created, join the line operative team and try out working on our production line. This was followed by an inspirational careers talk from Crewe's Senior Production Manager and a CV writing and interview skills session by the HR team who also highlighted the many different career opportunities available within the food industry and within Bakkavor.
As a Group, we have a Bakkavor Youth Strategy Programme in place to focus on and support the next generation of potential employees and are therefore proud to support The Prince's Trust's mission to help young people transform their lives by developing the confidence and skills to live, learn and earn.
We're now planning our next Tour for the Autumn…