A Great Place to Do Great Work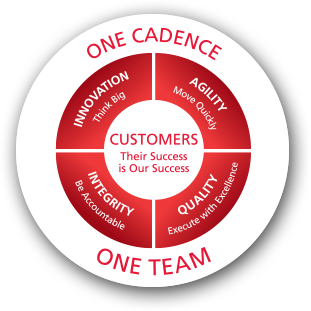 Employees join Cadence because of our innovation, and stay because of our culture. Working at Cadence means working alongside the industry's brightest people and innovating for some of the biggest companies around the globe. Our employees feel empowered and supported to make their mark on the future of technology.
Our culture has earned Cadence recognition as a Great Place to Work around the world, including Fortune's list of the 100 Best Companies to Work For. Our diverse team of passionate, dedicated, and talented individuals goes above and beyond for our customers, our communities, and each other – every day.
"When I first joined Cadence in 2009, building a high-performing culture became one of my top priorities. As transformative trends like machine learning shape the future of electronics, the opportunity for Cadence to innovate and grow is immense. I am committed to fuelling a dynamic work environment where employees feel inspired and empowered to do their best work. This is crucial when it comes to our ability to delight our customers with innovative products." – Lip-Bu Tan, CEO of Cadence.
Cadence has also appeared on the Great Place to Work Institute's Best Workplace lists for 12 countries, resulting in recognition as a World's Best Multinational Workplace, as well as Best Workplace lists for Millennials, for Giving Back, and for Parents, among others.