Leonardo approached AFBE-UK as part of its efforts to continue to build an inclusive culture for all of its people and to help attract a richer diversity of job applicants to the business, which has over 7,500 employees across the UK.
Norman Bone, Chair and Managing Director, Leonardo UK said: "As an advanced engineering company which is driven by innovation, we understand the importance of a diverse workforce. An environment in which a range of viewpoints and backgrounds are valued encourages the creativity and problem solving which underpin our performance as a business. To become more diverse, we are consciously reinforcing an inclusive work environment which embraces diverse talent. Forming links with organisations such as AFBE-UK will support this goal, helping to widen our appeal and attract a broader range of potential applicants, so that we can build a workforce which is ready to meet the challenges of the future."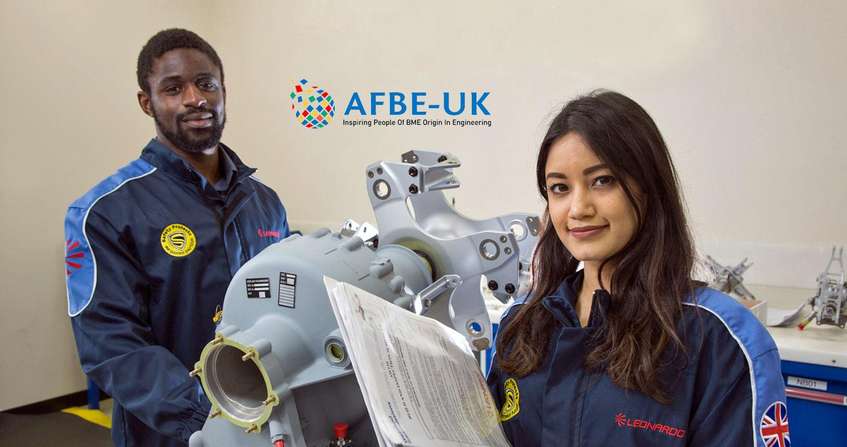 Leonardo is one of the UK's biggest advanced engineering companies, working to develop technology for a wide range of futuristic programmes including Tempest, the UK's next generation combat aircraft. To be successful, the company needs to continuously innovate, and therefore appreciates the value of an inclusive culture, where people from different backgrounds can thrive.
Dr Ollie Folayan, co-founder of AFBE-UK and chair of the organisation's arm in Scotland, where Leonardo has a major site, said: "This is our first partnership in this field, and we are delighted to be partnering with such an impressive company. Leonardo has clear objectives to make their company an inclusive and fairer workplace for all. The challenges we face as an industry require innovative solutions and 'out of the box' thinking, and diversity gives rise to that type of environment. We look forward to engaging with Nerys, Folayo and others at Leonardo, to further their objectives."
As well as working to attract a greater diversity of applicants, Nerys Thomas, Head of Inclusion and Diversity at Leonardo in the UK, is also focusing on inclusion and ensuring that once individuals join the company, they feel able to be themselves and want to stay for the long term. Nerys said: "We are really pleased to be embarking on this collaboration with AFBE-UK. Dr Ollie Folayan, is blazing a new trail in this field and we want to learn and grow together as an organisation, not only to reach out to new communities, but also to nurture the existing work community we already have. We also want to learn how we can make employees feel more at ease discussing diversity within a safe and welcoming environment."
One Leonardo employee who has been supporting the development of the partnership between the company and AFBE-UK is Folayo Osekita, who leads the unit in Leonardo responsible for developing key communications technologies for the Tempest programme. Before joining Leonardo, Folayo supported the rollout of the AFBE-UK's award-winning 'Making Engineering Hot' campaign, which uses role models to bring engineering careers to life for students aged 12-18 years old, across the UK.
Folayo said: "This new collaboration is the first of its kind within the aerospace and defence sector and sends a clear message that Leonardo is committed to creating an environment where everyone can bring their whole selves to work by working with external organisations to gain new insights."
As well as plans to engage the current generation of engineers, Leonardo will be seeking to collaborate with AFBE-UK to encourage all young people, particularly those of different ethnic backgrounds, to consider a career in science, technology, engineering or mathematics (STEM). Leonardo will be incorporating this activity into its annual national STEM outreach, which benefits thousands of children across the UK each year.