At this year's Defence and Security Exhibition (DSEI 2021) in London, Leonardo showcased some of the cutting-edge products designed and manufactured in the UK as well as products and services from our worldwide portfolio.
At the heart of our stand was the AW149 military medium multirole helicopter, Leonardo's proposal for the UK's requirement to procure a new medium helicopter.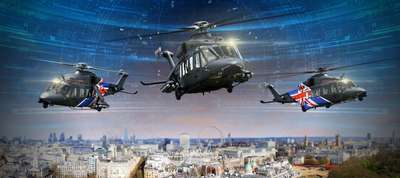 Why the AW149?
The AW149 is the ideal solution for the UK's New Medium Helicopter requirement - a latest-generation battlefield platform, reconfigurable for a wide range of demanding missions in the most severe operational environments.
Advanced platform and system technologies, equipment and weapons; coupled with unparalleled safety and performance, and high levels of survivability and crashworthiness; provides military customers with a highly effective, survivable and cost-effective capability.
An Open Systems Architecture enables the rapid and low cost integration of new equipment to meet changing military requirements. Leonardo has an active AW149 supply chain and is therefore able to deliver 'Military off-the-shelf' aircraft in less than 24 months.
Good for Yeovil, good for the UK
Choosing a British-made helicopter – the Leonardo AW149 – as the UK's next military helicopter, would create a cutting-edge new production line in Yeovil. It would be an investment in UK skills, design and manufacturing, and intellectual property, which would support thousands of jobs, boost exports and contribute significantly to the UK aerospace industry's recovery following Covid-19.
At DSEI, Leonardo announced the launch of Team AW149 UK, its onshore supply chain for the AW149 helicopter. Featuring more than 70 companies from England, Scotland, Wales and Northern Ireland, Leonardo's AW149 supply chain represents a cross-section of the best in British engineering and manufacturing.
At the exhibition in London Leonardo spotlighted nine of these companies, all of which are supporting the AW149 as 'the UK choice' for the Ministry of Defence's New Medium Helicopter requirement. Representing towns and cities from across the UK, from South Shields to Gosport, each company provides a vital component to the AW149 military helicopter, from lights to avionics systems and other hardware and software components.
The companies revealed at DSEI as Team AW149 UK members were Abaco Systems, Aerco, Chelton, Ford Aerospace, Forged Solutions, Incora, LFD, RDDS Avionics and Techtest Limited.
Speaking on the AW149, Nick Whitney, Managing Director of Leonardo Helicopters (UK) said: "Leonardo stands ready to support the UK Government with its intention to procure a New Medium Helicopter and develop future technologies, including uncrewed systems. As we continue to invest in these future battlespace capabilities, it is fantastic to see the vitality of the next generation of engineering innovators and inventors as they begin their careers on our award-winning apprenticeship and graduate schemes."
Discover more at https://uk.leonardocompany.com/en/media/uk-events/dsei