2021 was another busy year for Leonardo, and one in which we overcame challenges and celebrated success both in the UK and around the world.
We would like to start 2022 with a look back over the previous 12 months, as we send our best wishes for the year ahead to you, our customers, partners and colleagues.
After a year of our apprentices celebrating success at the 2020 MakeUK Regional Awards, Leonardo's Ella Legg was named winner of the National Manufacturing Award in the Business Apprentice category, a tremendous achievement.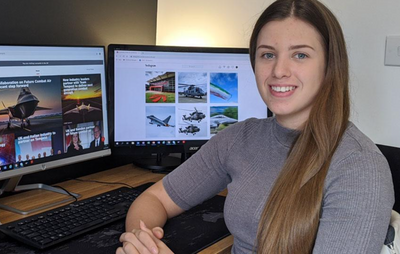 Also in January, Leonardo was added to the Bloomberg Gender-Equality Index for the first time, while Leonardo's UK Helicopters Managing Director, Nick Whitney spoke to Advance Magazine about what the company had achieved following the impact of the pandemic.
February was a big month for Inclusion and Diversity events, with LGBT History Month activities led by our Pride Network Group, and Time to Talk Day, which saw Leonardo UK CEO, Norman Bone, share a piece that spoke about the 'invisible challenges' of mental health. The month set the scene for another year that saw us celebrate important initiatives as we continued to foster an inclusive culture for all our people.
We also celebrated National Apprenticeship Week, in which we looked at the important contribution that our apprenticeships make to our business.
In March, we broke new ground with our Team Tempest partners by broadcasting the first episode of the Tempest Future Horizons podcast. Throughout the series, the podcast spoke with many of those involved in the programme, as well as key industry commentators.
March was Women's History Month, which our Equalise Network Group marked by hosting a series of activities focused on positive changes we can make, such as how to be an 'Active Bystander'.
We launched a campaign to position our AW149 as the ideal solution to the UK's New Medium Helicopter requirement in April, explaining how this and other opportunities could lead to greater export success, and secure advanced technology jobs for future generations in Yeovil.
We witnessed the achievements of the UK's upcoming engineering talent at the EDT Industrial Cadet Gold Graduation, which we were proud to sponsor and support as partners, with Leonardo STEM ambassadors having helped mentor teams from schools throughout the year.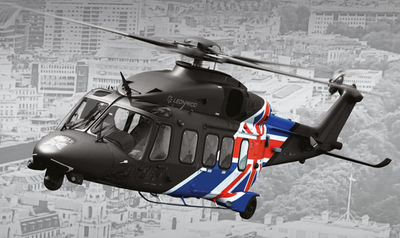 The UK Carrier Strike Group 21 (CSG21) set sail in May, led by the Royal Navy's HMS Queen Elizabeth aircraft carrier. We were proud to be supporting CSG21 through our role as a strategic partner to the UK MOD, with our AW159 Wildcat and AW101 Merlin Mk2 helicopters deployed to keep watch over the fleet and the surrounding seas.
We were delighted to once again celebrate International Women in Engineering Day (INWED) this year. Engineering & Projects Director, Paula Clarke, released a video version of her poem, In My Defence, in which she and some of Leonardo's leading women engineers speak to their experiences as female engineers.
Later in the month, during Armed Forces Week, we showed our respect for our Armed Forces, including regulars, reserves, veterans and cadets, many of whom we count as colleagues.
We were proud to sponsor the Virtual air Tattoo in July, where an international audience was treated to virtual displays, interviews and many other events during a weekend livestream. The month also saw the return of Families Day at both RAF Coningsby and RAF Lossiemouth, where the Typhoon Display Team dazzled the crowds.
We continued to look to inspire budding young engineers by publishing our Leonardo STEM Survival Kit, designed by our graduates and apprentices. The pack contains hours of activities and experiments for students to take part in at home throughout the summer holidays and beyond.
We marked a special anniversary in August, celebrating 35 years since the Lynx helicopter's absolute world speed record, when it raced over the Somerset skyline to achieve an average speed of 249.10 mph (400.87 km/h), a record that still stands today. As a permanent symbol to the feat, a team of Leonardo apprentices restored a retired Lynx Mk 7 to sit on the birthplace of the helicopter at our site in Yeovil.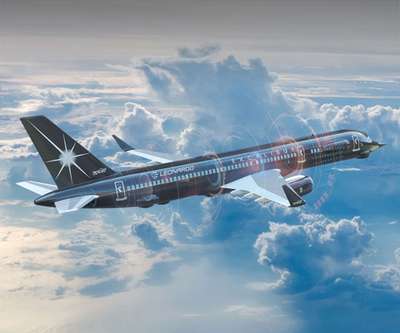 There were multiple successes for Leonardo announced in September, at the 2021 Defence and Security Equipment International exhibition in London. At the event, we showcased our portfolio of cutting-edge, British-made capability sold around the world. Leonardo's significant physical presence revolved around the AW149 at the heart of our stand, symbolising our role as a key onshore defence company generating prosperity in the UK.
We started October by formally launching our newest network group, Ethnicity Inclusion, to coincide with the start of Black History Month. The group aims to create a better and fair ethnicity balance within Leonardo at all levels.
During the month, we hosted a panel session with our partners at Association for Black and Minority Ethnic Engineers (AFBE-UK), where guests from across UK industry debated how to make positive strides in achieving ethnicity balance. We also teamed up with AFBE-UK to deliver virtual NextGen STEM events, including a talk on 'Becoming an Aerospace Engineer' from Leonardo Systems Engineer, Hania, based at our Luton site.
As the United Nation's COP 26 rolled on in November, we announced positive steps in sustainability as the AW149 helicopter took to the sky using a blend of Sustainable Aviation Fuel (SAF) in a successful test flight; the use of SAF could result in a reduction of lifecycle carbon emissions by up to 80% compared to traditional jet fuel.
The Women in Defence UK Awards 2021 culminated in an awards ceremony later in the month, with four finalists from Leonardo in attendance, across three categories. We were delighted that Leonardo STEM ambassador and Senior Hardware Engineer, Sarah Cooper, was named winner of the STEM in Defence Award.
In December, Graduates and Industrial Placement students from our Luton site looked to help colleagues achieve a greener Christmas by offering over 200 packages of recyclable wrapping paper, and eco-friendly ribbons and bows with money raised going to the site's chosen charity.
We were once again happy to donate funding allocated for employee celebrations (that had been cancelled due to Covid) to Social Bite, enabling the charity to buy 4,000 meals for those experiencing homelessness this Christmas throughout the UK. This marked the end of another bumper year of charitable activities at Leonardo, with colleagues not allowing restrictions to stop them from raising money for so many fantastic causes, which we looked back on as part of December's annual Giving Tuesday event.