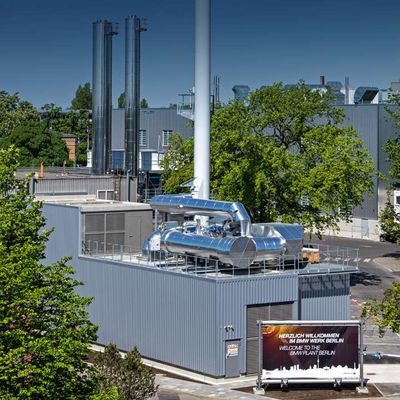 The BMW plant in Berlin is not only the "birthplace" of BMW motorcycles, but also a think tank when it comes to sustainability. The success of its ecological tunings is impressive.
Almost 2,000 BMW employees at the Berlin motorcycle plant work to achieve the global success of racing bikes, enduros, roadsters, touring bikes and scooters. Up to 800 machines leave the assembly line each day, so that just a few weeks later a rider is able to run-in his or her BMW bike in one of the 130 countries they are delivered to.
However, there is one thing most of these bikers are not aware of: Not only do they have the guarantee of sensational performance, safety, individuality and design, but can also rest assured that their machines were produced sustainably.
To achieve this, the 220,000 square-metre factory site - the equivalent of 30 football pitches - has undergone a great number of adjustments: Further sustainability regulations were established, modifications made, new technologies introduced and individual production stages optimised. Additionally, employees received ecological training and the cooperation with verifiably sustainable transport and disposal companies was intensified.
One concrete measure is, for example, the plant's power house: Here, among other things, the (normally) open cooling system for heat-intensive processes was replaced by a closed circuit. As a result, several thousand cubic metres of fresh water are saved each year. Furthermore, a thermal power station utilises the principle of cogeneration: The waste heat resulting from the production of electricity can now also be used for heating purposes.
The three painting facilities also make a resource-efficient contribution: Here, among other things, the workers use as standard an eco-friendly hydro paint finish that was co-developed by BMW. Moreover, the paint facility 2 incorporates the so-called "ESTA" process, whereby the paint is electrostatically applied to plastic parts, meaning that it is applied to the workpiece in a much more targeted manner. Therefore, especially in the case of small parts, up to 40 percent less paint is required. The BMW plant also combines economical and eco-friendly advantages in the area of raw material use and waste disposal: 100 percent of metal waste and more than 90 percent of other waste generation from production and administration are reused.
Moreover, reusable steel transport racks in which the motorcycles are transported to customers throughout Europe make a crucial contribution towards the conservation of resources. On average, these racks are reused five times a year. And the packaging comprising a mix of wood and corrugated cardboard also avoids the processing of 900 tons of timber each year.
Thanks to the measures implemented, the factory in Berlin is now the only motorcycle plant worldwide to be certified or validated respectively according to the international environmental standard ISO 14001, the EG Eco Audit Regulation for Eco-Management and Audit Scheme as well as the International Industrial Standard for Occupational Health and Safety.
Therefore, it is not surprising that an increasing number of raccoons, beavers, foxes, herons, bats and, more recently, two bee hives have meantime made the plant their home. So in addition to motorbikes, around 50 kilograms of honey are now produced here every year. And this is just the beginning.