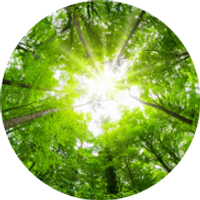 "Reply is committed to managing its business activities while paying close attention to environmental issues in order to respect the legacy of future generations."
As the world rapidly changes, inequality increases and the planet struggles, the need for pivoting priorities becomes even more evident. It is clear that we are in need of a shift guided by digital transformation and the green revolution. Those two domains are not new, but strong results can flourish by putting them together.
Sustainability is a responsibility but also a unique opportunity for all of us. We are playing our part by considering environmental, social and governance concerns of sustainability.
---
Environmental protection
We implement new ways to reduce the footprint of our operations and generate long-term financial growth, while living up to environmental and social expectations. We seek a positive balance by reducing our energy needs, diminishing waste and also creating sustainable innovation.
---
Propagating Sustainability
A real difference can be made by propagating our services and solutions as catalysts for the green revolution. By helping our customers achieve results that minimise environmental impact and create positive socio-economic change, we can play a leading role in the growth of a real, tangible, sustainable future for generations to come.