Reply is a consultancy firm and most of the services are delivered by employees directly at client premises. Environmental impact is limited to consumption of energy resources (for office heating and lighting) and to business travel activities.
---
Renewable Electricity
Reply is working on switching to 50% renewable electricity in all territories by 2025, as well as introducing energy efficiency improvements in all offices within a decade.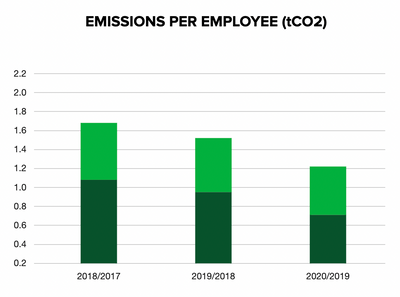 In 2020, new "green" supply contracts were signed, making it possible to achieve the goal of 100% renewable electricity in the main Reply offices.
Environmental Policy Guidelines
Since in most cases the Group does not own the premises out of which it operates and cannot implement energy efficiency measures itself, Reply has put in place strict environmental policy guidelines to reduce and monitor the impact of corporate activities on the environment.
-48,2 tons of CO2 per year
During 2020 Reply purchased 350 trees on the Treedom platform, to celebrate Earth Day. This new "Reply Forest" is currently able to absorb 48,2 Tons of CO2 per year.
+50% E/Hybrid Vehicles in 2023
Reply is evolving towards a greener fleet. We are continuously updating its the "car-list" moving from 10% of hybrid/electric vehicles in 2019 to a 50% of hybrid/electric vehicles in 2023.
---
DRIVING THE GREEN REVOLUTION TO BUILD A BETTER, SUSTAINABLE AND DIGITAL SOCIETY.