Organisation
A unique opportunity to work for a sports betting consultancy that puts technology at the centre of the business.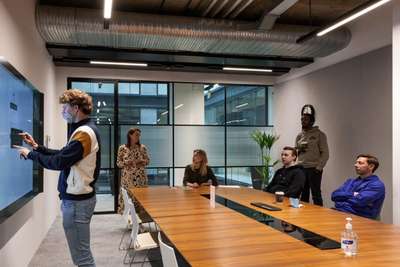 Technology has allowed Star Lizard to remain at the forefront of sports betting for over 10 years. We are well respected in the industry as the leader in our field.
Our technology teams are product focused and highly agile. We take pride in our engineering focused culture and high trust environment giving our cross-functional teams freedom to experiment, innovate and solve problems in the most optimal way.
We have a large team of exceptional engineers responsible not only for development but for the environments and testing. We firmly believe in upholding and continuously improving an engineering culture where the path to delivering value is frictionless and enjoyable for developers as possible.
The work and technologies are exciting but most importantly the people you'll be working with are highly knowledgeable, friendly, and supportive. The combination of people, technology and challenging problems makes a potent combination and a great place to take your career to the next level.
Role Overview
As an IT Support Analyst, you will work as part of a busy Helpdesk team providing a 1st class IT support service to the business. You will ensure that requests and incidents are resolved to a high standard, in a timely fashion and the end-to-end user experience is positive. You will be troubleshooting and remediating issues that impact users, escalating when necessary to achieve a successful conclusion. You will be adhering to documented processes and procedures to ensure we provide an efficient and consistent service each time.
What type of candidate are you?
Someone who is naturally interested in existing and future technologies. A conscientious and dynamic team player who will take pride in being part of a well-respected and motivated Helpdesk team. You will be comfortable in taking ownership of Helpdesk tasks - working independently and as a team on issues when necessary to ensure we reach a resolution in a timely fashion. You will be able to perform well under pressure when required. You enjoy building great working relationships with the people you work with and support around the business.
What will you be doing?
You will be responsible for providing technical support to users at all levels within the company across a broad range of desktop and office-based technologies. Completing routine daily tasks and checks that ensure things are running smoothly in and around the office. You will ensure Helpdesk responses to users are prompt and that all incidents/requests are logged against reference numbers which are issued to the users. You will be an active part of the Helpdesk support rota that operates early and late shifts both on weekdays and weekends with a regular on-call element.
What skills will you have?
A fast learner – enjoys learning new technologies and processes
Excellent customer support skills. Confident in dealing with VIP's
Able to build rapport and strong relationships with colleagues and users
Ability to adapt, troubleshoot and resolve a broad range of IT issues
Effective time/workload prioritisation in a fast-paced environment
Proactively take ownership of problems to ensure a successful resolution
Timely escalation of issues and problems in a concise way to senior engineers
Can work as a team player or independently as and when required
Previous experience of working at the 1st line level beneficial
What technologies are we looking for?
Microsoft Windows 10
Office365 product support, user administration and MFA Setup.
Desktop support of various 3rd party applications
Microsoft Server and Linux Operating Systems advantageous
Any Virtualisation technology experience a bonus
Citrix XenApp Server Environments
Audio Visual systems / Meeting Room Technology
Mainstream office-based technologies (CCTV, Wi-Fi, Access Control).
An awareness of AWS, Azure cloud platforms beneficial
We've signed the Gradcracker feedback pledge.
(This means that we will supply feedback if requested after an interview.)
1e127ede32d8f816eacfb0aed73cee11