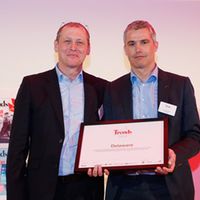 On Wednesday, 28th of February 2018, Belgian weekly Trends announced the winners of the Trends Gazelle Ambassador awards for the West-Flanders region. We are very proud of the fact that delaware took home the trophy from a group of 200 eligible companies in the large enterprise category.
In choosing a winner, Trends' editorial team investigated whether each candidate could put forward strong results on various levels, ranging from revenue, staff and added value. The successful company also needed to exist for 5 years or longer, and employ at least 20 staff members.
With almost 1,000 employees across Belgium and 200 vacancies yet to be filled, along with a revenue of €150 million in Belgium alone, our strong performance convinced the jury that delaware was the right choice to receive this prestigious award. We will carry this title with pride, and are sure that it will prove invaluable to further foster, deepen and invest our ties in our strong West Flemish and Belgian roots.