Accelerate your career at CERN and take part in today's biggest scientific breakthroughs!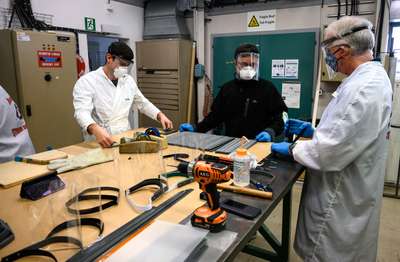 What could be a better boost for your career than a work experience in one of the largest scientific experiments in the world at the cutting edge of technology, to develop your technical skills, knowledge, and professional abilities?
If you're a recent graduate from university or a technical institute, you could spend up to three years working right at the forefront of scientific research.
As a graduate, you could join us for research work in particle physics or take part in the day to day CERN operations, working in a broad range of applied sciences, engineering, and technical fields.
Whichever route you take, it will be an extraordinary and enriching experience. And experience like nowhere else on Earth.
Categories of graduates
CERN offers different categories of graduate opportunities, depending on your level of academic education and work experience. These are:
The ORIGIN Programme (Early Career Professionals), for nationals of Member or Associate Member States with no more than 2 years' experience after completing your highest diploma:


General secondary education, technical or administrative diploma
Bachelor or Master's degree

The QUEST Programme (Experienced Project Graduates), for nationals of Member or Associate Member States with a MSc degree and between 2 and 6 years' experience or PhD with up to three years of relevant experience.
The RESEARCH Fellowship Programmes:

Theoretical and Experimental Physics Research Fellowship, for researchers in the fields of theoretical and experimental physics holding a PhD and up to six years' experience in the field after obtaining their PhD;
Science and Engineering Research Fellowship, for candidates holding a PhD in the field, with a maximum of 3 years of experience after obtaining their PhD.
How does it work?
Selection moments for our student internships run three times per year, in February, June, and October.
Selection moments for our early careers graduate programme (Origin) also run four times per year, in March, May, August, and November.
We wish you all the best for your application!