We are all experiencing life in a new "mode" during the COVID-19 pandemic, with telework for most of us in different organisations and companies. It's the same for CERN, where technicians are busy in many different ways. in this series, we take you behind the scenes of their working life in these times of confinement.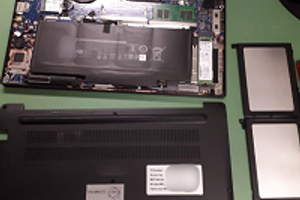 Johan, local PC support:
"CERN may be in "Safe Mode" but we are still here to help out in these hard times. As always safety comes first in our priorities: we are having to replace a few swollen batteries on laptops that could have led to potentially make the laptop unusable. Since we want our personnel to work with the best possible equipment extra speed is also good. As you can see in the pictures we reconstruct laptops by adding extra RAM or upgrading their disks in order to boost them. Stay safe and healthy!"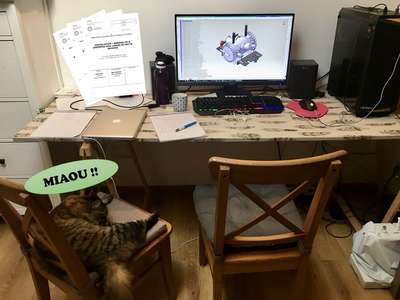 Louise, mechanical technician:
"This is my 'home office'. In normal work times at CERN, I was dividing my time between working on CATIA and doing some mechanical assembly in the lab. I was also working on the machines (LINAC4, PS BOOSTER and SPS) and this is the thing I miss the most! So now I am teleworking and the biggest change is that my cat is helping me every day! I take advantage of this confinement to do things that were not urgent compare to Long Shutdown-2 tasks. I work on septa magnets 3D models to keep them up to date. And I also write assembly and maintenance procedures."
Douglas, automation technician:
"The polymerisation press is one of the first stages in creating our superconducting magnets for the LHC. It simultaneously compresses and heats a mould in order to polymerise our NB3-sn windings. Its control system is outdated and limits the functionality of the machine. While I work from home, I am developing a new control system that we can use upon our return. It will give us increased data monitoring and precision control, ensuring we maintain our high standards throughout production."

Lampros, industrial control technician: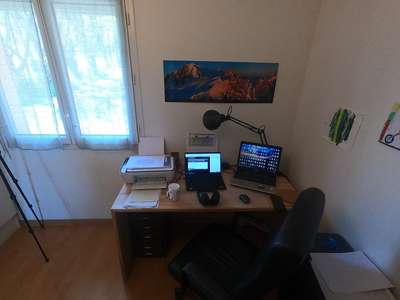 "It's been almost a month now that we are working away from the tunnel and there is still a lot of work to be done from home: PLC projects, database & documentation updates, drawing & schematics.... Also great opportunity for taking some e-learning courses from Linked In Learning - check it out! Stay SAFE-POSITIVE-CREATIVE !"
Alan, electrical technician:
"We have to compensate all field-based work which is currently stopped. At the moment, in the context of the Control Interlocks System of the SPS main power converters (160MW power), I am creating a schematic view of a control chassis to remote-control the 18kV cublicles. And all that while sharing my home-desk with my little girl."

As for Jon, technical infrastructure operator, he's still partly onsite:
"Here is a photo of me working in a rather empty CERN Control Centre. My time at the moment is split between shift work in the CERN Control Centre where I manage the Technical Infrastructure, and working from home on automatic call out software and websites. Even during this temporary closure, the Technical Infrastructure (electrical, cooling and ventilation systems etc.) must remain available, regardless of how many people are on site. If the power to the Computer Centre was to be lost, for example, then everyone who is connecting remotely to their office PC, or accessing one of the many databases at CERN from their home would be impacted! Although it's tempting to try, it isn't really practical to recreate a control room at home on the kitchen table, so this job still needs to take place in the CCC. That means there are now just two of us working at any one time in this huge, almost empty room."