For Oussama, mechanical technician: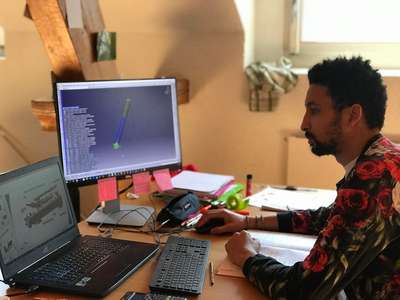 I work in the Engineering Department's Mechanical and Materials engineering group. Working from home has combined the two most important places of my daily life. It has resulted in increasing my efficiency as I am more comfortable and more focused. My mokka pot has also played a great role in that !!
P.s. By working at home I don't have to worry about cleaning my desk anymore.
For Florian, technician in the heavy machining workshop:
I am a master-craftsman from Austria specialising in CNC machining, programming and tooling and I work in the heavy machining section of CERN's main workshop since last October where we manufacture big parts with a weight of up to 50tons. Due to the Covid-19 Pandemic my team had its last on-site workday on March 16th and we have stayed home since.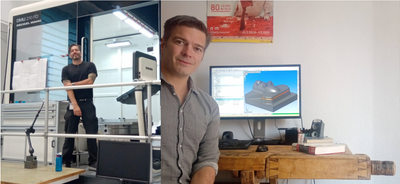 Naturally my tasks require hands-on work with the handling of our parts and operating machinery and thus I cannot use this time as productively as in a normal work situations. Nevertheless I can use CERN's online trainings (e.g. language courses) and with the use of so-called "virtual machining" from my home, I can prepare for the demanding tasks of a hopefully near future.
Also I want to highlight the encouraging online contact with my crew and my supervisors. I am sure we will return to work stronger and better than before.
Meanwhile, for Ole-Kristian in the Accelerator Beam Transfer group...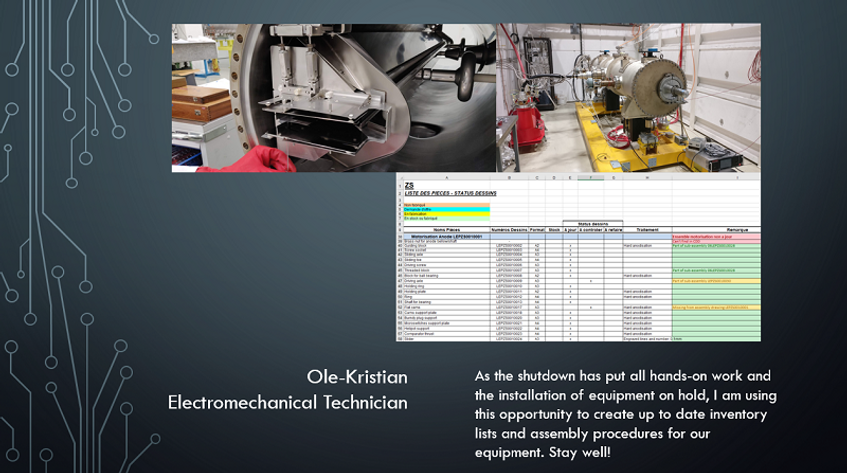 For Raul, electrical technician on CERN's TTE programme:
I am a technician on CERN's Technician Training Experience programme in the Technology department's Machine Protection and Electrical Integrity Group, and during this time of confinement my job is to develop new mechanical components for the different projects of the department, and find and select better electrical components to be able to manufacture and install them. At this time we also have daily virtual meetings with colleagues and supervisors, to exchange information and share a virtual coffee. With optimism, work and patience we adapt and overcome the circumstances.

And for Vitor, technician working on access and safety control systems: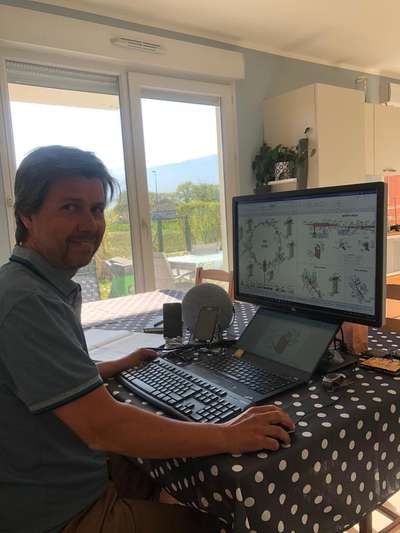 I work in the Beams department's industrial controls and safety group on the access control and safety systems.
In particular for the access control and safety of the SPS in radioactive zones (underground).
In this moment I'm doing a sectorisation of the SPS, as the whole access system is being replaced by new technology (the previous from the 70's is obsolete).
This consists of separate portions of the tunnel, zones and experiments in sectors, for patrol before beam, the necessary instrumentation in all doors leading to the SPS complex and what actions shall be taken in case of someone would go through those doors.
Finally the installation of new access points on the surface to control who and when someone can go underground.
When the confinement ends, I'll go to the field and supervise our contractors on the installation and instrumentation of the new access system.
As for Anders, it's another story...
I am quarantined in my "home" country, this is how it happened:
11 March: I arrived in Norway (where my family still lives), for a planned visit and a few days leave.
12 March: Norway is confined/locked down, I was put in 14 days home quarantine from date of arrival, since I arrived from a country outside the Nordic region. Thus postponing my return to CERN to the 26 March.
24 March: Travel ban of ALL unessential travel out of Norway. I am not allowed to leave the country.
Meanwhile, France has been put under lock down, borders are closing throughout Europe, air traffic is halted, thus I am now "stuck" in Norway until further notice. Good thing I'm with my family! I have a colleague who has been separated from his family in the seventh week, due to the closure of borders.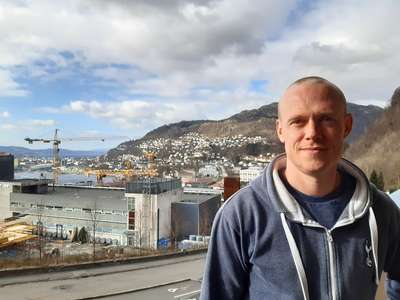 As for the teleworking side:
It turns out that performing "teleworking in the tunnels" is quite a challenge, as 90-95% of my day job is physically in the LHC, SPS, PS or Booster, as well as in the surface buildings in correlation with the machines.
At the moment I'm on parental leave and I am therefore "free", though "Daddy-duty" is ongoing 100% :-)
The whole section has got access to the O'reily learning platform, and is of course encouraged to also use the CERN Learning Hub, to enhance our skills during the time of confinement. Our section supervisor has set up a daily virtual meeting at 10.00 for all section personnel, to keep in touch and share the news from both France and Switzerland, as well as people's home countries. We also have a weekly Staff meeting, giving us an update on the situation and new decisions from hierarchy.