Hi Julia! Tell us about yourself, your journey and how you came to CERN.
My name is Julia Laast, I am a third year Mechanical Engineering student from City University of London. I am Ghanaian, but I was born in Italy hence I have both citizenships. I am a lively and sociable person, and I enjoy challenging myself. I choose to pursue a career in Mechanical Engineering because it made me feel fulfilled and alive.
I have known about CERN since I was eleven or twelve years old, when the LHC started working. I became more and more interested when the Higgs Boson was discovered, realising how all that sophisticated technology and research contributed towards amazing discoveries.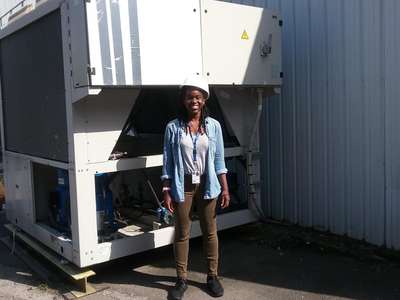 I heard about the CERN technical internship on a website called Gradcracker, and I was extremely happy because I never knew that CERN recruited students for internships. I applied in October last year, and got the confirmation email the first week of December, it was amazing. Being a physics research institution that involves so many engineering and technical disciplines ranging from mechanical, electrical, electronics and computing to robotics and materials science and more, it represented an ideal working environment to gain an insight into current research activities and challenges and learn new concepts and skills. There is so much to learn here, and so much going on. It is an invaluable and unique experience.
What struck you most about CERN when you first arrived?
I have been amazed by the friendly environment. Lots of events are organised to bring people working in different sections together. I believe this favours collaboration and cooperation between individuals. Also, I am surprised by how big the site is, it feels like being in a city!
How have you found integrating and settling in?
Settling in at work hasn't been a challenge, despite some of my colleagues speaking mainly French. Almost everyone speaks English as well, but I will definitely learn French to better integrate with people in the surrounding areas. I am currently working as a technical student for one year in the CERN Engineering department's cooling and ventilation group. I have to perform fluid flow simulations employing CFD software like ANSYS. I had very little experience with the software prior to this job, but I have been provided with a lot of guidance and support from my colleagues and supervisor, and tutorials are available to aid learning. Everyone has been extremely welcoming and patient.
Can you tell us a little about the project you will be working on as a technical student in the Cooling and Ventilation group?
My first project consists of determining the temperature distribution across a detector currently employed in a laboratory abroad. It involves flow of air with the presence of heat generation sources and ventilation pipes. A 2D study was conducted and in order to achieve more detailed results a 3D study was commissioned. I enjoy the project because it enables application of the principles learnt through my studies and enables a better understanding of fluid mechanics. I will be writing technical reports and delivering presentations as well about my findings. This represents a great way of developing my confidence.
Any advice to potential candidates out there?
CERN is a great place to meet people from all over the world, learn a new language and embark on all sorts of sports activities. I strongly recommend applying for a CERN technical studentship: it represents an invaluable growth opportunity both personally and professionally. Also, grades aren't the key criteria in gaining an internship at CERN: passion for your subject area and willingness to learn and improve are what makes the difference.