Hi Fahim, tell us a little about yourself and what brought you to CERN?
I was born and brought up in London, UK, where I completed a Masters in Mechanical Engineering in 2008 at Imperial College. After this I wanted to work on big engineering projects and finally get out of London. I worked for RWE and EDF on coal, gas and nuclear power stations across the UK on upgrades and maintenance for a few years before becoming more interested in research and development of new technologies. I then spent a few years in a Fusion lab, designing and developing components before I was recommended by some colleagues to apply to CERN. I hadn't previously been aware of or really considered the huge engineering opportunities that exist here, but of course the physicists here need somebody to design, build and operate their big toys!
Before I applied, I was still slightly apprehensive about leaving the UK but one of the big draws for me was the adventure of leaving my home country and all that came with it, from learning French to spending time on the Swiss lakes and in the French Alps all year round.
Can you tell us some more about your experience here?
The main difference between working here and working somewhere else is the scale of the projects. The scale of the work here is unique in Europe, if not in the world, for an operational facility that is also continuously undergoing development and upgrades. And so it means that we are always doing and building things that no-one has done before, which makes the engineering challenges really interesting and really appealed to me about moving here.
Currently I work in the cryogenics mechanical engineering group, mainly working on upgrading the liquid helium capacity for CERN's main superconducting magnet test facility. Over the period of my CERN post, it is has been possible to do a great range of tasks, from design and process development, to procurement, contract management leading to installation and commissioning of new systems. These types of opportunities were particularly appealing to me and for my professional development in diversifying my engineering skills. While these opportunities have been very rewarding, CERN's scale means that the organisational processes take time to learn and adapt to.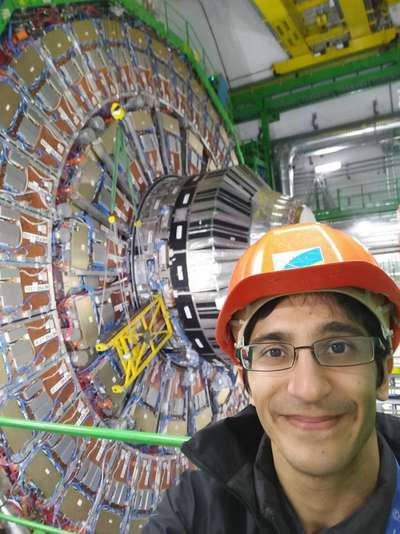 What has working at CERN been like for you?
There are not many jobs like this. The international breadth of great and different people that you get to meet and work with at CERN has been one of my biggest takeaways. The mix of cultural and working practices from all over Europe and farther afield make for a fascinating work environment. Naturally this can also present some challenges too, for example with language limitations sometimes giving and receiving instructions can be misunderstood.
CERN feels like being somewhere between a university with its publications, lecture series, conferences and clubs(!) but also industry with its resources, budget and multi-discipline environment. This can also be complex for life as an employee; staff members start on a relatively short contracts depending on the position for between 1 – 5 years, meaning there is initially no long term career development at CERN within a post which would be present in industry. Instead staff on limited contracts early in their careers are often focused on how to get their next contract to stay at CERN. In the end, it can be difficult to settle down in the area, when you may have to leave the country after a few years. Instead it can be more of an adventure, rather than a 'real' job.
What are your key 'take aways' and what advice would you give potential applicants?
CERN looks for people with relevant transferrable skills in the Engineering and Technology Groups; specialisms are rare but lots of people (perhaps you!) have the skills required to do the job. With the scale of CERN and the disciplines covered, the range of roles available are also very varied, some suited more to people who like to work in teams or alone, some with more programming and coding or spending the day physically diving into the machines with plenty of hands on tasks.