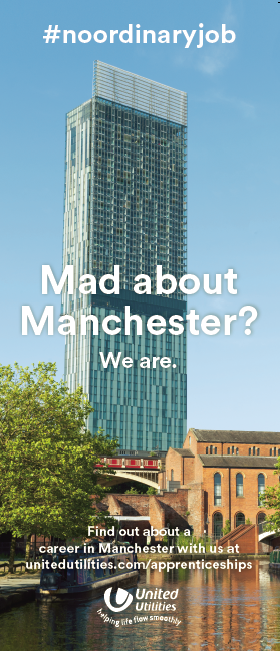 Our people are really important to us which is why we offer an excellent package of pay and benefits to all our employees.
Fancy saving for a deposit for your first house, a season ticket for your footy team, or a dream holiday?
With some cash in your pocket, and the benefits of working for UU, this could all be possible.
How does all of this sound?
A starting salary of £27,000 plus a £2,000 welcome bonus
If you work hard, you could reap an annual bonus of up to 7.5% of your salary – a great pay day treat!
A whopping 26 days' of annual leave every year, increasing to a maximum of 30 days after four years' service PLUS bank holidays. You can even buy additional holidays or sell some of your holiday entitlement back - where's your next trip going to be?
Access to an award-winning Company pension scheme – it might seem FOREVER away, but it's good to start saving for the future
Eligibility to join our employee Share Scheme, enabling you to become a shareholder in the Company – who wouldn't want to own part of United Utilities?
A fantastic healthcare scheme, helping with the everyday costs of trips to the dentist or optician, and providing access to medical specialists or even surgery if needed - believe us, you'll be grateful of this benefit!
There's all sorts of other discounts, such as on vehicle breakdown cover (great for when your wheels decide to let you down) and we have a Cycle to Work scheme too – if you fancy a bit of pedal power
A massive selection of deals and discounts at your favourite high street shops – perfect for you shopaholics!