We're committed to supporting all of our people in developing their careers - and we want to make sure everyone has the right tools to be the best they can be.
ITV loves helping you be the best you can be
So, from day one, you'll have access to a wide range of on-the-job and workshop-based learning opportunities – whether you join us in our Studios or in another department, or you're looking for specialised technical training, or you'd simply like additional support in developing your leadership skills.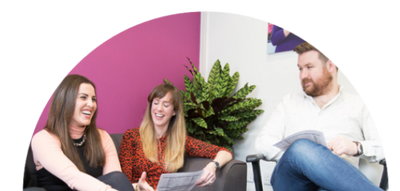 What's more, you can decide what works best for you too - and that could be anything from a secondment to another business area, a mentoring opportunity, a place at one of our Lunch and Learns, or an hour or three at our face-to-face workshops.
And because we keep tabs on what's happening in (and out of!) our industry when it comes to learning, we're always up-to-date with what's new – and we're usually willing to try it. In fact, we work with everyone from neuro scientists to comedy writers to help shape what's on offer for our colleagues, and we insist on finding topic experts to help make sure that our content is packed with the best, the latest, and the most useful stuff.
We'll do everything we can to help you develop in your role, but it's up to you to make the most of the opportunities we offer you. Your career is in your own hands!