Here at ITV, we celebrate individuality and we're committed to creating an inclusive environment where everyone can thrive.
ITV loves a level playing field
It's just a natural part of what we do.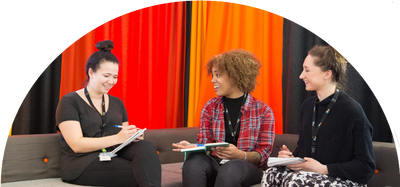 It's your talent that really matters and we want you to be the best you can be. So, our aim is to make sure our workforce reflects the diversity of modern society, which is why we promise to treat you with fairness and respect, whatever your age, gender, disability status, sexual orientation, gender identity or expression, religion, ethnicity or marriage/civil partnership status, pregnancy or maternity status and family circumstances.
As members of the Creative Diversity Network (CDN), we've made a public commitment to improve representation of society on screen, and to become more diverse and inclusive behind the scenes too. Our work under ITV's Social Partnership underpins our commitment across programme making and production for better representation. At the end of the day we want our workforce to represent the audience it serves. It's a pretty big goal, but one that we get closer to all the time.