We meet some of the biggest challenges in the industry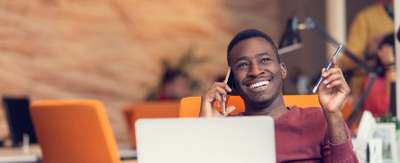 The ITV business is underpinned by a wide and diverse set of technologies, from the workflows that transport media to where it needs to go for advertising and content platforms, to the web and cloud technologies that teams use.
Our product teams deliver technology for millions of customers watching our shows every day, and we are pushed to develop complex solutions that scale, and we want to deliver products that both our internal users and external customers love to use.
We don't work alone either, we partner with other UK media companies like the BBC and Channel 4, and we work closely with platforms like Apple, Sky, Amazon and many other places where our content and apps appear. This makes it a truly exciting environment that changes every day.
We're transforming everything
Our tech teams are continually developing our portfolio of new and innovative products which will power the next phase of ITV's future. Our focus is always on making it together with others and making it a brilliant experience for customers and our teams. Our teams love innovating and working on new initiatives and we encourage a culture of building proof of concepts for new ideas and creating tools to make the company go faster.
You will continue to develop your skills during your time with us and be part of a technology and engineering culture
There's never been a more exciting time to join ITV technology. We are incredibly focused on developing great people and are committed to the diversity of our team because our success depends on it. In other words, it's somewhere that everyone can grow and make a difference.You'll be at the heart of the action - you'll innovate, disrupt, and push technology to its limits. Our teams never stop learning, and sharing with teams across the company and across the industry. We are part of a show and tell culture, we hold tech forums, we speak at events about how we've cracked complex problems, and you'll be encouraged to share with technical and non technical teams alike. You can hear more about what we've been working on through stories on our technology blog.
We lead our industry in Data engineering, Agile, Cloud & Cyber security
Our cross functional teams self organise, and we work in a cloud-first environment in both AWS and Google Cloud. We've developed strong partnerships and technology that have shaped the market. We've embraced the open source market and we give you the environment and support to develop you. We've built automated delivery and continuous integration pipelines. We have engineers that work on the back end platform and front end applications that are built on native or web technologies. The range of experience that you'll gain from working here is unparalleled with vast opportunities within data engineering, advertising technology, internal and external platforms and all within a vibrant media environment across the UK.
We are strong on partnerships
We're strong on partnerships and we've partnered with Universities across the UK, we offer summer placements to computer science and engineering students, and our 2 year graduate scheme is unrivaled due to the experience across multiple teams, technologies and projects - it's not just a standard single-discipline training scheme. We're proud that the high diversity levels reflect that we attract people from all backgrounds and experiences and that the team is better because of that. Our graduates have been hired into areas like data engineering, our dev ops and group technology team, direct to consumer technology and our content technology teams.
This is a place where you'll be expected to teach yourself new skills at all stages of your career. This is a chance to be part of a growing team in a company that's investing in tomorrow.