What we believe, and where we're going
At Ecolab, we believe the best teams are diverse and inclusive – and we are on a journey to create a workplace where every associate can grow and achieve their best. The business leaders who make up our Executive Diversity & Inclusion Council set the strategic framework to ensure progress through teamwork and commit to inspiring action. We are excited about the work we're doing to define a path to our future. Ecolab is a place where you can grow your career, own your future and impact what matters.
---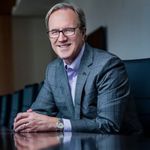 Diversity in action at Ecolab
"There is a compelling business case for diversity and inclusion – and it's the right thing to do. All people on our planet want to feel that they matter. When they believe that's true, the result is a whole lot of positive, creative energy."
Douglas M. Baker Jr., chairman and CEO, Ecolab Inc.
Employee resource groups (ERGs)
As part of our commitment to fostering a diverse and inclusive workplace, Ecolab proudly supports ERGs. These employee-initiated and led groups represent unique cultures, experiences and backgrounds across 72 countries with nearly 5,000 members. Ecolab ERGs provide business insights, solve business problems, build leadership skills and act as "brand ambassadors" in their communities.