As champions of both company innovation and diversity, Bryden Wood are delighted to have three exceptional team members selected as finalists for the prestigious European Women In Construction and Engineering Awards.
The WICE Awards, currently celebrating their fifth year, highlight the leading contributions being made by women within the industry. It's a unique opportunity and honour, for both nominees and the eventual winners, with finalists evaluated by an expert panel of judges on the basis of outstanding achievement and contribution within the field.
In an industry in which women are still substantially underrepresented, the WICE Awards offer an opportunity to champion the contributions from the most outstanding female workers in construction and engineering, as they compete against hundreds of high performing nominees from across Europe to win the top accolade within their categories.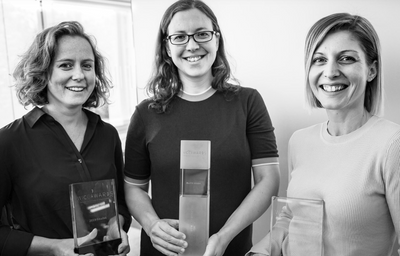 With their focus on 'breaking down barriers and building new heights,' the WICE Awards report that just 9% of current UK engineering roles are occupied by women and only 11% of jobs within the construction industry.
Bryden Wood, who pride themselves on being driven by the core principles of maximising innovation, efficiency and creating pioneering and value-driven solutions to the industry, are proud that so many of their team members are women.
'50% of our Architects at Bryden Wood are amazing, talented, creative and inspirational women,' says Board Director for Architecture Paul O'Neill.
Indeed, female team members play crucial roles all across the company, with three out of four directors of the innovative Creative Technologies team being WICE award finalists.