We've been having many conversations about how to make Centrica an inclusive place to work, one that reflects the world we live in, the customers we serve and one where anyone can succeed. As a new CEO, I want to develop a culture where colleagues feel valued. This starts by making everyone feel included, welcome and at home. It's also about listening to colleagues from different backgrounds, so that we can understand the world better and take actions to make it a better place.
While I want to make Centrica a more inclusive and fairer place to work, the brutal murder of George Floyd is a stark reminder that we do not live in a fair and inclusive society. It has forced many individuals to listen and take time to understand more about the struggles our black communities have faced for many, many years. And, beyond listening, there is a responsibility to change the status quo. We must do and be better.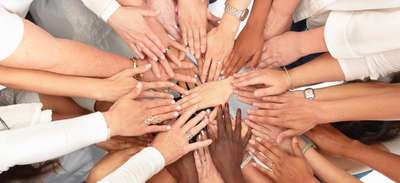 This is a responsibility that I take seriously and I recently spoke at our virtual Town Hall about why the Black Lives Matter protests have struck a chord with me. I am not ashamed to say the murder of George Floyd has elevated the need for me to do better, to make sure that Centrica is a more diverse and truly inclusive organisation.
While we have started on this journey and made some progress through our Responsible Business Ambitions, removing bias from recruitment with diverse shortlists and recruitment agencies, and rolling out unconscious bias training for all colleagues, I know there is a long way to go when it comes to making sure that colleagues, at all levels of the organisation, reflect the customers we serve. This change can only come if we listen to colleagues, interrogate existing systems and processes, and remove any barriers that prevent equality for all.
Speaking to our employee networks has confirmed my need to do more. Asking for their help to change our culture has been both sobering and inspiring: sobering in the sense that the pace of change has been so slow, and inspiring because we have such vibrant networks of wonderful colleagues desperate to make a difference. But I know the buck stops with me.
So, what's next?
I'm conscious that good intentions do not always lead to tangible outcomes. That's why it's important that I'm upfront about the fact that Centrica is at the early stage of this journey, before I outline some of the steps we are taking.
We have a long way to go and continuing to listen and learn is a crucial part of the journey. It's why I, and the senior leadership team, will be hosting listening sessions with Black employees. We will hear directly from colleagues so that we can understand more about the issues that we need to tackle and, crucially, address them head on with an action plan.
So that we can foster a deeper level of understanding and perspectives on racial diversity across the organisation, we are asking all colleagues to complete an ethnicity survey. This insight will be invaluable as we work to build an inclusive culture.
In the next few weeks we will launch a campaign for Black and Minority Ethnic colleagues to share their experiences. Now is not the time to sweep people's lived experience under the carpet or to shy away from conversations about race in the workplace. Whilst I have zero tolerance for racism, I have learnt over the past few weeks this is not enough: I need to be anti-racist in order to be a true ally to Black colleagues and those from other minority ethnic groups.
Transparency around ethnicity reporting is critical for measuring our pace of change and it is also a way for colleagues to hold me to account. It's why I have committed to improve transparency, so that all colleagues can have access to information that shows where and how different groups are represented within the organisation. At the same time, we are running a 'Count Me In' campaign to encourage everyone to update their personal information so that we can better understand our workforce diversity and target our action.
At Centrica we have a thriving Black Organisation for Leadership and Development, an employee network that focuses on our colleagues in North America. However, there is now a need to facilitate additional chapters to address the needs of Black colleagues in the UK. This is something that I think will be an excellent addition to our existing Ethnicity Network in the UK. We are also exploring partnerships so that we can improve Black representation in senior leadership and across Science, Technology, Engineering and Maths (STEM) roles.
There is now a greater onus on companies to act responsibly when it comes to decisions about where they advertise. There is no room for hate speech or discrimination on any channel. It's why, as part of a full media review, we are about to undertake a diversity review of our communications and where our content is being placed.
Over the coming months I am committed to building on these foundations, working with colleagues and our employee networks, so that we can create long-lasting and tangible change.
This isn't about ticking a box. It's within my gift to change the status quo at Centrica and I am ready to listen, learn and make changes so that every colleague can thrive.