This is an exciting time to be in the world of grocery retail — an industry worth nearly £200billion a year with convenience retail commanding a whopping £40billion of this.
So what is Convenience Retail?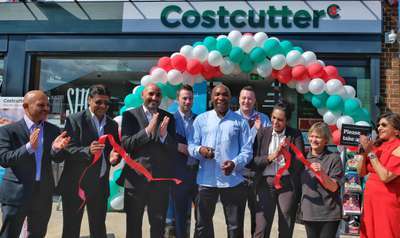 Historically, large format supermarkets were the only option for shoppers, but we have moved away from this way of shopping in favour of local, smaller, convenient and community based stores. Our network of over 1,000 independent convenience retailers is continually striving to meet the needs of these shoppers.
As the face of grocery retail continues to change we are nimble and dynamic enough to change with it and with a predicted 17% growth by 2023 convenience retailing is where it is at!
What can you expect?
Independence and autonomy are some of the key skills we look for in our leaders of the future. The experience you'll gain through the programme will ensure you have considerable interaction with your colleagues and build in-depth, specialist knowledge meaning we will come to rely on your sound assessment of sometimes fairly complex operational or specialist matters.
Our Future Leaders Programme is designed to ensure you develop the skills needed to influence internally and externally, particularly in our Sales and Trading rotations.
In addition, we offer focussed support and development, equipping you with the ability to make independent judgements in day to day matters — as well as those that involve more complexity.
Your Programme…
Your rotations are built to ensure you gain a breadth of experience so that you understand the core of our business and you can start to shape your future choices as a leader with us.
You'll also have the opportunity to tell us where in the business you'd like to work permanently following your 2 year programme so we can really help accelerate your chosen career path!
As a retail business it's important that you understand what our retailers see and feel on a daily basis so that you can innovate on how we are best placed to support them. That's why your first few weeks' will be spent immersed in one of our company owned stores, getting to grips with the day to day operation before you move to our Support Centre where you'll spend the majority of your two years (and beyond) with us!
You'll spend 24 months working in both project and role based environments so you can really flex your skill set. These will span our four core functions:
Retail — high energy and sound relationship building abilities are key. You'll take a Business Partner role, supporting a region of Independent retailers and helping their businesses thrive.
Trading — collaboration and analytical thinking are a must in this Category Assistant role. Our supplier focussed team work to ensuring our retailers have the right products available to them.
Marketing — accountability and innovation is essential. You'll be taking ownership for some local marketing activity and leading high profile, cross-functional projects.
Finance — crucial to understanding and influencing decision making. Here, you'll flex your business and financial acumen in a Commercial Analyst position.
In addition to your rotations, you'll have time to lead commercial and cross-functional projects; this is where your innovation and commerciality can really come to life!
And your opinion really matters – that's why at the end of each we'll make some time for you to feedback to us and our leadership team on your thoughts, findings, insights and recommendations from your time in each area.

Training and Support:
You will have a tailored development plan, built just for you - starting on day 1 and running through your first 2 years with us and beyond!
As part of your extensive support network you'll have access to a Buddy, a Mentor and our People Development Team, who will be there to support you.
Within this development programme you will have frequent group and one to one support, access to nationally recognised training such as ILM as well as our award nominated future leadership programme Horizon.
Following this you will have the opportunity to continue your study through postgraduate courses such as Masters or MBA within your chosen area of specialism or move to a professional qualification such as CIMA, CIPS and CIPD.
Location:
Our Future Business Leaders Programme will be predominantly based in our Support Centre in York with one rotation supporting an area of independent retailers; depending on your location we can offer flexibility on where this is.
You'll need to...
have a minimum of 2:1 in any STEM degree discipline
be graduating in 2020 or within the last 2 years.
have a UK driving licence
have the right to work in the UK
have good written and oral communication skills.
Benefits:
As well as inclusive culture and agile working philosophy, you can expect:
a permanent role from August 2020 with the option to specialise after your initial 2 year Graduate Programme
a competitive salary
the use of a car for the retail rotation
a bonus
a market leading 30 days holiday (plus bank holiday).
Our Application Process
Online Application
Online Assessment
Telephone Screen — this is where we get to know you a little better and can answer any questions you have on our business and the role.
Group Assessment — we'll invite you to York and take you through some core areas of assessment so we can make sure we're the perfect match for you!
1e127ede32d8f816eacfb0aed73cee11