Job description
Your 12-month placement will be in either Category, Science & Technology or Packaging:
Category:
As part of the Revenue & Category Growth team, you will be supporting the team in the execution to customers of the vision, strategy and opportunities for the coffee category, analysing shopper behaviour, sales data and conducting factory and consumer test trials. You will also carry out sensory analysis and evaluation on brands such as Kenco, Douwe Egberts and Tassimo.
Science & Technology:
Mechanical engineers could be developing next generation beverage dispensing systems in partnership with Bosch, designing functional packaging and conducting fundamental research into products and processes. Previous students have developed delivery mechanics for ongoing Tassimo machine development.
In Ingredients Research you could be researching new ingredients, running experiments, developing novel measurements, recording and analysing data, scouting new technology and communicating results to the technical leadership team.
Within Food Science you'll be supporting longer-term projects by furthering knowledge in a specific area, applying fundamental theory to produce technical breakthroughs, inventing the future of the coffee industry.
In the Analytical Chemistry Department, you'll be responsible for both analytical work and method development. You may also be assigned a research-type project, investigating the fundamental chemistry behind some of JDE's processes and products, such as studying lactose crystallisation in milk powder or assessing oxidation of flavour compounds over shelf life.
The Process Development roles consist of organising and running pilot scale trials, recording and analysing data, scouting new technology, working with the facilities team to install new equipment into the pilot plant and supporting the development of risk and commissioning assessments to ensure safe operation.
Packaging:
You'll be working on the technical development of new packaging formats for local and international brands and discovering new materials/technology applications to optimise existing products. The team works closely with suppliers and manufacturing locations to ensure smooth transition from concept to finished product.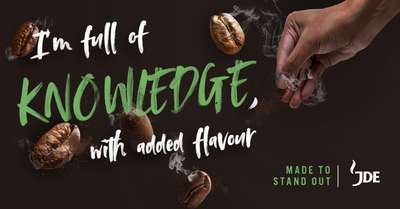 Why should you apply?
Travel: JDE provide awesome opportunities to travel. Last year around half the placement students travelled abroad.
Fantastic perks: 25 days' holiday, free hot beverages (not just coffee!) and even Barista training!
Student Charity Committee: Every Friday all the placement students get together for a fun charity meeting. Last year their charity work raised over £30,000 in total.
Culture: At JDE they have a friendly, hands-on environment where everyone is encouraged to contribute and all opinions are valued. There is also a strong mentoring programme and you will be periodically reporting to senior business stakeholders and interacting with other placement students.
Corporate Social Responsibility: From sourcing ingredients responsibly with internationally recognised standards, to partnering directly with suppliers to improve working conditions and protect natural resources, and aiming to make all manufacturing sites landfill free by 2020, at JDE they are driven by their passion for coffee & tea, care for people and respect for the environment.
Job requirements
For these roles we're looking for applications from a broad range of STEM backgrounds, including but not limited to: Chemistry, Chemical Engineering, Food Science, Physics, Natural Sciences, Mechanical Engineering, Materials Engineering, Electrical Engineering, Production/Product Design, Mechatronics and Technology.
We are looking for bright and enthusiastic students who can work well in a team and are willing to get stuck in.
You must be an undergraduate looking for a 12-month Year in Industry placement from July 2020 to July 2021.
1e127ede32d8f816eacfb0aed73cee11