After the induction week, where you'll be introduced to Tesco and the Technology team, you will spend two weeks in store, understanding how our stores operate and spending time with customers.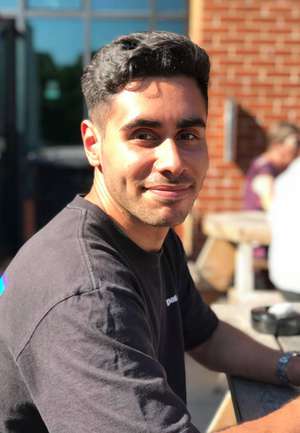 So what were your first few days working in store like?
The first few days were definitely pretty intense! The stores we were placed in were Superstores or Extras so they were pretty huge and there was a lot to see and learn in not much time to make sure that we were up to speed with all of the processes and how everything works. After a few days though you start to settle into it and all the staff are super friendly and helpful! Depending on which store we asked to be placed in, quite a few of us were placed with other grads for the placement.
Was there a lot to see in terms of technology as well?
Yeah absolutely! Everyone has been round a Tesco store before, but there is probably a huge amount of technology that you won't have noticed or won't have really thought about how it works. Technology is involved in pretty much every part of each store, with everything from the fridges and freezers to the more complex security and tills systems there is technology everywhere. Some of the technologies are managed by specific people in the stores team, so we just observed when we spent time in those roles, but there were other technologies like the tills and the PDAs that we had training for so that we could do the roles ourselves.
Were there any roles you found particularly enjoyable?
Being on the self-checkout tills was good as you're interacting with a lot of people and it's very hands-on! Pick and Go was also a lot of fun as you're basically racing around the store against the clock with your PDA trying to pack your online orders.
So overall, was it a good learning experience?
It definitely was. Being at head office, you'll learn very quickly just how massive Tesco is as a business so it's really valuable to just spend some time in an actual store and learn how the business works from the ground up. And from a technology perspective it's really useful to see how everything works and how customers and colleagues interact with everything. It was a challenging two weeks but it ended up being a lot of fun and it gives you plenty of knowledge and things to work on going into the labs placement!