Diamond's aspiration is to be a fulfilling and enjoyable place to work; where all staff, regardless of grade, role, location, race, religion, age and other personal attributes, feel valued and recognised for their individual contribution in helping us to achieve our objectives and priorities; and become an employer of choice and a great place to work. Our values help us to do this.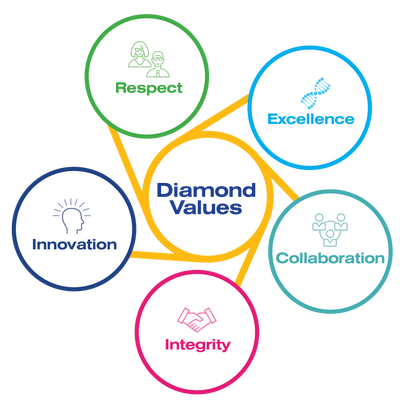 Respect
We respect the diversity of others to ensure fairness, equality and inclusion so that everyone is valued and difference is seen as positive to achieving Diamond's objectives.
Excellence
We work to ensure we are well run, economic, safe and efficient; always seeking to improve what we do and how we do it, both as individuals and as an organisation, to provide the best service possible.
Collaboration
We achieve more together than in isolation in working towards the delivery of Diamond's vision.
Integrity
We act fairly and honestly in a transparent and ethical manner to ensure our professional relationships are built, developed and maintained.
Innovation
We question standard or accepted practices and generate ideas to develop new or improved processes, methods, systems or solutions to help Diamond develop.