Athena SWAN at Diamond Light Source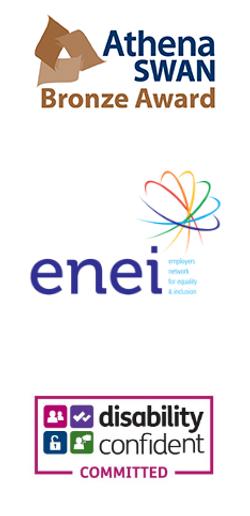 Athena SWAN is a Charter to advance women's careers in STEMM subjects (science, technology, engineering, maths and medicine). Its Bronze, Silver and Gold awards celebrate good practice in recruiting, retaining and promoting women in those subject areas within higher education and research.
In May 2015, the charter was expanded to recognise work undertaken in arts, humanities, social sciences, business and law (AHSSBL), and in professional and support roles, and for trans staff and students. The charter now recognises work undertaken to address gender equality more broadly, and not just barriers to progression that affect women.
Diamond achieved the Bronze Award in October 2016.
Athena SWAN Action Plan
To ensure Diamond progresses its Athena SWAN Action Plan, we have set up a team composed of staff members at all levels, including the CEO. This team reports progress made against the Action Plan on a quarterly basis to the Executive Management Team.
We strive to continue the discussion at Diamond about equality and promote awareness about issues facing women (and increasingly men) in STEM roles and are driving changes in policy and practice to address them.

Linked to this, we are adapting our recruitment and selection processes, raising the profile of mentoring and running regular networking events, including seminars with a focus on the Equality and Diversity topic. We pride ourselves on our flexibility and family-friendly environment and have in place a range of policies and benefits to enable people to balance their professional and home lives.
Athena SWAN Charter
The key beliefs underpinning the Athena SWAN Charter are that:
The advancement of science, engineering and technology (SET) is fundamental to quality of life across the globe
It is vitally important that women are adequately represented in what has traditionally been, and is still, a male-dominated area
Science cannot reach its full potential unless it can benefit from the talents of the whole population, and until women and men can benefit equally from the opportunities it affords.
The Athena SWAN scheme is managed by Advance HE, previously the Equality Challenge Unit (ECU). Advance HE is a sector agency funded by membership subscriptions.