Summer Placements are usually offered to high calibre students studying a university degree, or its equivalent, from the UK or elsewhere. With this type of placement, the trainee is paid directly by Diamond.
The Diamond Student Summer Placement scheme allows undergraduate students studying for a degree in Science, Engineering, Computing or Mathematics (and who expect to gain a first or upper-second class honours degree) to gain experience working within a scientific environment at Diamond.
These 12 week placements are paid positions and will provide successful students with an opportunity to work on a research or development project within Diamond. The placements are available to students who are registered as undergraduate students at the time of the placements – typically during the summer of their penultimate year.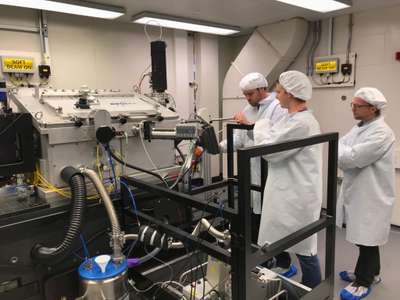 Training and experience is also provided in the following areas:
Presentation training to prepare for your final talk on your project
Poster design as an important skill for the communication of science
Python programming
Public engagement skills
An internal programme of seminars and talks from leading scientists
Tours and talks of other science facilities across the Harwell Campus
You will also have the opportunity to get involved with other areas of work at Diamond to gain a wider view of the full range of what Diamond does. In addition, you will have the chance to visit research teams based at Diamond and other facilities on-site at the Harwell Campus, and to participate in public engagement events, and in communicating science to a wider audience.
In previous years, some of our Summer Placement students went to the Bluedot Science and Music festival to represent Diamond, and others have also gone to New Scientist Live and other external events, as well as internal events and open days. Training will be provided to allow the students to give a short presentation on their work and to summarise their activities in a poster.