About Us
Diamond Light Source is the UK's national synchrotron science facility. By accelerating electrons to near light-speed, Diamond generates brilliant beams of light from infra-red to X-rays which are used for academic and industry research and development across a range of scientific disciplines including structural biology, physics, chemistry, materials science, engineering, earth and environmental sciences.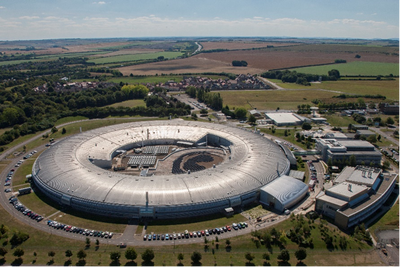 Our Summer Placement programme
The 12 week 'Summer Placement' scheme allows undergraduate students studying for a relevant degree to gain experience working in a number of different teams at Diamond.
You will work on your own project during the summer by collaborating with your group and staff all across the organisation along with the support from your supervisor/s. Diamond has an excellent track record for helping students execute work which is valued not only by Diamond staff but also our User community. We have also welcomed previous summer placement students back to Diamond as they work and study towards one of our competitive joint PhD studentships, which shows how impactful our placements can be.
In addition to working on your own project, you will also have the opportunity to get involved with other areas of work at Diamond to gain a wider view of the full range of what our facility does. You will be encouraged to learn about research teams based at Diamond and other facilities on-site at the Harwell Campus, and to participate in public engagement events, and in communicating science to a wider audience.
You can apply for up to three projects and can read about each of the available projects.
Further information
Our Summer Placements are paid at a rate in excess of £16,000 on a pro-rata basis. Training and experience are also provided in the following areas:
Presentation training to prepare for your final talk on your project
Poster design as an important skill for the communication of science
Python programming (if applicable for your project)
CAD Training (if applicable for your project)
Public Engagement skills
An internal programme of seminars and talks from leading scientists
Tours and talks of other science facilities across the Harwell Campus
To Apply
There are placements available in the areas of physical and life sciences and engineering. Click 'Apply online now' to view the individual projects. Please use the online application process to apply and tell us why you believe you are suitable for this role.
Applications close at 23:59 on Wednesday 12 January 2022.
Shortlisted candidates will be invited to interviews taking place on 7, 8, 9 & 10 February 2022. Please ensure you keep these dates available.
For the positions advertised students will need to either be a UK national or hold a tier 4 visa, or otherwise have the right to work in the UK.
We've signed the Gradcracker feedback pledge.
(This means that we will supply feedback if requested after an interview.)
1e127ede32d8f816eacfb0aed73cee11