About the role:
This is an 8-week paid internship opportunity with David Nieper as part of the WMG Internship Programme.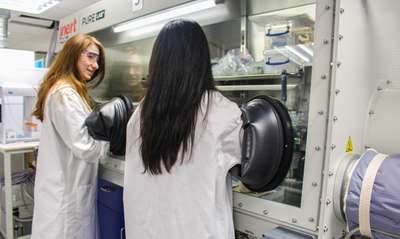 This role involves calculating the emissions of manufacturing clothing from raw material extraction to point of sale and understanding the impact of bringing printing, dying and garment manufacture activities to the UK. The project offers David Nieper Limited the opportunity to measure the impact of recent interventions in energy generation and consumption on the carbon footprint of their products.
The internship will also create the matrix framework for the carbon checker project collating key criteria for an emissions assessment in a later project.
This internship will benefit your Life Cycle Assessment (LCA) and environmental evaluation skills applying both in a manufacturing situation.
The internship is based at the company site in Alfreton, Derbyshire and you will be working closely with the David Nieper team, gaining first-hand experience in a manufacturing business; as part of the Programme, you will also benefit from weekly supervision and support by a WMG expert, throughout the duration of the project.
About the company:
David Nieper is a British fashion business committed to being world class in everything they do. They design and make premium quality clothes in Derbyshire – the traditional home of British textiles.
Duties and responsibilities
You will update a previously published report on the carbon footprint of clothes manufactured at David Nieper. This will include documenting findings and reporting back to the company.
Main activities include:
Determining how emissions are split across the value chain (raw material yarn production, weaving/knitting, printing/dying, garment production).
Create a carbon footprint for a relevant example from David Nieper's collection.
Assess how recent interventions have affected energy used and emissions generated per garment produced.
Compare emissions to key overseas manufacturing locations (Bangladesh, Turkey, China).
Creating a matrix framework for future carbon checker project:
Identify materials to be included in carbon checker project
Identify countries of manufacture to be included
Collate conversion factors per country (grid mix)
Identify transport routes to market for the assembly/sewing
Skills and experience
Essential:
Undergraduate or postgraduate degree in Manufacturing Engineering, Environmental Science or similar.
Life Cycle Assessment training
An understanding and appreciation of materials manufacturing or production
Good verbal and written communication, time management and organisational skills
Ability to work under pressure and to tight deadlines
Self-motivated, driven and proactive
Desirable:
Knowledge of clothing / textiles manufacture
GaBi software / EcoInvent database experience
Location
Mainly at home but will be required to visit business (Alfreton, Derbyshire) once a week.
Additional information
This is an 8 week position.
Application Guidelines
This role is part of the WMG Internship Programme. Unfortunately, we are unable to consider you for this internship if you are applying for this to count towards a work placement as part of your studies.
This role is open to students, graduates, postgraduates and PhD Students who are:
Based in the UK
Eligible to work in the UK
Available to work 36.5 Hours per week (Full time)
We've signed the Gradcracker feedback pledge.
(This means that we will supply feedback if requested after an interview.)
1e127ede32d8f816eacfb0aed73cee11