Whether it's to discuss the feasibility of a new micro-stamped/machined concept or the requirement to utilise our proven tool transfer service, Brandauer can offer a flexible solution. Founded in 1862, Brandauer has evolved into a world class, multi-sector engineering business, supplying precision stamped components to customers throughout the world. Accredited to ISO9001:2008 and ISO14001, Brandauer export 75% of production to markets in Electronics, Telecoms, Medical, Automotive and Mil-aero.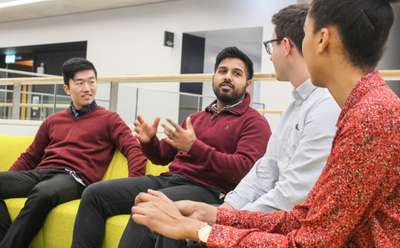 With a history built on precision, Brandauer established their presence in the micro-engineering sector over 10 years ago and has gained an enviable reputation for converting seemingly impossible concepts into miniaturised stamped solutions. Experts in production of components from precious and semi-precious materials, down to 0.05mm thickness and supported by a specialist in-house tooling service, Brandauer innovate automated solutions to fulfil the most challenging micro-scale specification.
Brief description of the Project:
To deliver & support an already awarded Made Smarter funded project:
This project will deliver real-time monitoring across the five most critical and busy presses at Brandauer, utilising the Decade press monitoring system. It will record productive time and measure any efficiency losses. Integration with the downtime and quality data will give an accurate picture of OEE that the management can use to focus process improvements. The software will be customised with support from the technology provider and WMG to integrate with other software systems at Brandauer.
How would a Digital Technology Intern assist your project or business?
Detailed scope of work with objectives, targets and deadlines that the intern would be required to carry out:
The objectives are to:
Install five press monitoring systems from Decade including panel mount control screens
Review the capture of downtime and efficiency losses, considering how to include quality issues and tool adjustment time.
Setup a management reporting dashboard
Create a shop-floor visual management system, including add on lights and alarms
List expected areas of knowledge required:
Communicator at all levels
Data analysis
Lean
Mechanical background
Problem Solving
Project management
Please give an overview of your strategy and approach to digitalisation
Brandauer are an SME manufacturer of high-volume and high-precision metal pressings across 40 presses plus an in-house tool room and NPI/design team. Our objectives are to
grow EBITDA from £1 to £1.7 million in 5 years
increase profitability of tooling and design services from18% to 25% of revenue
increase manufacturing capacity through efficiency gains using real-time data from the presses thus achieving OEE of 85%
We hold the Queens Award for International trade in recognition of our export successes, sending over a billion components to 10 diverse sectors in 22 different countries
Please provide a work plan:
Phase 1 – Installation Phase
Raise order for Installation of five Decade press monitoring systems
Press monitoring installation complete
Phase 2 – Analysis of Systems and Data
Review other sources of data (e.g quality), and efficiency problems
Review management dashboard and usage for costing and decision making
Recommendation for integration of systems
Phase 3 – Integration of Data Systems
Software development required to integrate systems & trial a shop-floor visual management system
Intern Capabilities
What capabilities do you require the intern to possess?
Communicator at all levels
Data analysis
Lean
Mechanical background
Problem Solving
Project management
Anticipated Start Date: December 2021
We've signed the Gradcracker feedback pledge.
(This means that we will supply feedback if requested after an interview.)
1e127ede32d8f816eacfb0aed73cee11