Role
This is a 12-week paid internship opportunity with Coolshock Events Ltd, as part of the WMG Internship Programme.The role involves a critical investigation of the company's key production processes to optimise inventory management and throughput control. With the aim to reduce waste and improve productivity.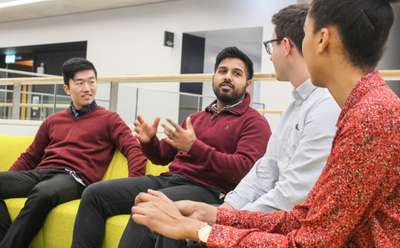 The internship is based at the company site in Litchfield, Staffordshire and you will be working closely with the Coolshock Events team, gaining first-hand experience in a manufacturing business; as part of the Programme, you will also benefit from weekly supervision and support by a WMG expert, throughout the duration of the project.
This internship is a fantastic opportunity to deliver an important project with the company, that will allow the successful applicant to develop a range of technical and interpersonal skills, including but not limited to analytical research, critical thinking and project management. Whilst developing and applying your knowledge of production processes and materials requirement planning. Findings from the project will then be presented to key internal stakeholders in the form of strategic recommendations.
About the company:
Coolshock Events, and their team of experienced experts, work alongside some of the industry's leading brands to deliver outstanding activations and events. Their in-house capabilities allow them to offer bespoke design solutions through to manufacture and installation on site, to their clients.
Duties and responsibilities
You will lead a project to optimise the company's production processes, inventory management and materials requirement planning. This will include documenting the existing processes in detail and conducting root cause analysis on the sources of inefficiencies via a structured improvement methodology, to define requirements and opportunities for improvement. Main activities will include:
Understanding the company capabilities and requirements
Understanding and mapping the current process, from order through to customer delivery
Defining appropriate requirements based on current process
Generating ideas and research to improve the process, and piloting them with the team
Setting out the plan to embed the improved process
Developing own facilitation skills
Skills and experience
Essential:
Educated to or working towards a relevant engineering degree (or equivalent).
Knowledge of process mapping techniques, inventory management and materials requirement planning.
Analytical thinker with a practical approach to problem solving.
An interest in implementing continuous improvement, waste reduction and productivity within a manufacturing business.
Confident communicator, able to effectively present to and communicate with staff at all levels.
Desirable
Ability to analyse and interpret results
Willingness to learn and explore new ideas.
Organised and highly motivated with a focus on results.
Location
Lichfield, Staffordshire
Additional information
This is a 12 Week position based in Lichfield
Application Guidelines
This role is part of the WMG Internship Programme. Unfortunately, we are unable to consider you for this internship if you are applying for this to count towards a work placement as part of your studies.
This role is open to students, graduates, postgraduates and PhD Students who are
Based in the UK
Eligible to work in the UK
Available to work 36.5 Hours per Week (Full time)
We've signed the Gradcracker feedback pledge.
(This means that we will supply feedback if requested after an interview.)
1e127ede32d8f816eacfb0aed73cee11