This is a 12-week paid internship opportunity with Data Image Group, as part of the WMG Internship Programme. Data Image Group Ltd are an innovative and growing UK manufacturer that are looking to continue their digital transformation. The role involves managing a project where you will be responsible for data collection and analysis to generate solutions that will optimise production and manufacturing. Typically, this could include a critical investigation of key production processes to understand current machine capabilities and determine future capital investment based on a thorough cost benefit analysis.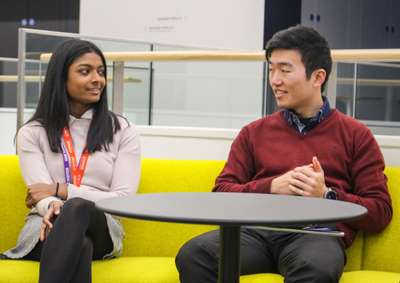 The internship is based at the company site in Narborough, Leicestershire and you will be working closely with the Data Image Group Ltd team, gaining first-hand experience in a manufacturing business. As part of the programme, you will also benefit from weekly supervision and support by a WMG engineer, throughout the duration of the project.
This internship is a fantastic opportunity for a highly motivated individual to own and deliver a high impact project in an innovative and growing manufacturing company. Helping to develop a range of skills including project management, critical thinking, problem solving and stakeholder management.
About the company:
Data Image Group Ltd are a large-scale print production facility working with global brands across a wide range of market sectors. Printing directly onto virtually any rigid surface or rolled material, examples of their work include; bespoke ceiling panels; custom flooring; custom wallpaper; illuminated graphics; stretch fabric graphics and 3D display units.
Duties and responsibilities
You will lead a project to analyse the companies current production process capabilities, generating a cost benefit analysis based on research and analysis to provide critical insight to the senior management team, which will guide further facility investment decisions:
Understanding and documenting the current state, including processes and equipment.
Developing a framework to analyse the companies current capabilities and future needs.
Using appropriate analysis and decision making tools to determine future investment.
Setting out a roadmap of implementation.
Developing own facilitation skills.
Skills and experience
ESSENTIAL:
Educated to or working towards a relevant engineering degree (or equivalent). Ideally manufacturing engineering, engineering management or similar.
Knowledge of research, analysis and decision making tools, such as cost benefit analysis.
Organised and highly motivated with a focus on results.
An interest in implementing continuous improvement, waste reduction and productivity within a manufacturing business.
Confident communicator, able to effectively communicate with staff at all levels
DESIRABLE
Experience in a manufacturing environment or production shop floor.
Ability to be flexible to work in different environments
Analytical thinker with a practical approach to problem solving
We've signed the Gradcracker feedback pledge.
(This means that we will supply feedback if requested after an interview.)
1e127ede32d8f816eacfb0aed73cee11