Locked down but busier than ever – hear from our newest ForrestBrowners in the tax team about how they found starting their roles remotely
New faces. New processes. New responsibilities. Starting a new job is always tough, but doing it remotely throws up a whole host of different challenges. We spoke to three of our newest tax associates, Pippa, Laura and Jim, to get the lowdown on joining ForrestBrown during lockdown.
So, first things first – when did you actually start at ForrestBrown?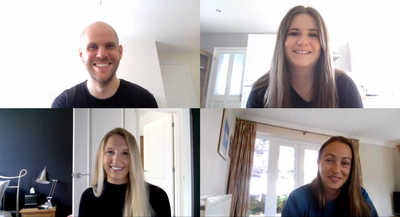 Jim: I've been at ForrestBrown for just over three months now – I came from working for the NHS, although I'd actually worked as an aircraft mechanic before that. I did my interviews and assessment day pre-lockdown.
Laura: I started about a month after Jim, but we did the assessment day together.
Jim: So we have actually met in real life!
Pippa: I officially started during lockdown, but I also interviewed before it.
You don't have to be an R&D expert, or even from a tax background, to become an associate at ForrestBrown. Where had you worked before?
Laura: I worked at an accountancy and finance recruitment company – I had nothing to do with tax or R&D. I wanted to do something that would combine the people skills I learnt in recruitment with the numerical skills I learnt during my Maths degree. I also really wanted to continue my education and start working towards a professional qualification. ForrestBrown seemed the perfect place to do it.
Pippa: I worked at a small tax consultancy firm in Bath straight after university. I'd been there for about a year and a half, but I wanted to work at a bigger company with a great culture, social scene and the ability to support me with structured learning. It was important to me to be able to continue my professional studies and to become an expert in one focussed area of tax.
Jim: As well as the NHS and being an aircraft mechanic, I've also worked as a historian. All skills that have somehow combined nicely to suit my role at ForrestBrown.
That's quite the change – especially for you, Laura and Jim. What was it about ForrestBrown that made you want to make the move?
Laura: So many factors! I'd come across ForrestBrown a number of times when recruiting within the tax market in the south-west and when I originally started researching the company, their website really stood out. It was bursting with personality and really caught my eye. I loved that they worked with clients from so many different sectors – I knew I would enjoy the collaborative, fast-paced environment. And, on top of all that, I love Bristol and always wanted to move here.
Jim: The location is great for me too (as a Bristolian!), but I think I would have travelled to another city for this opportunity. I came across ForrestBrown on a YouTube advert to start with, but when I did some research I was particularly struck by the emphasis on educating people about R&D tax credits and how they can benefit businesses. I could see the company was sincere about trying to help its clients. It sounded like an interesting branch of accountancy which I hadn't thought about, so I applied.
Pippa: When I was waiting in the seating area to be seen for my interview, every single person who passed by me smiled and a few different people asked if I was okay and being looked after. There was an energy in the air and it gave me good vibes.
So tell us about the interview process itself. What was it like?
Pippa: The interview was actually in person (pre-lockdown) and the office was buzzing. I had an informal chat and then in-tray exercises and a more formal interview with the senior management team. Everyone who interviewed me was so approachable and easy to talk to.
Laura: I'd also finished the interview process before lockdown, but we did go into lockdown while I was working my notice period. That was a really scary time. I knew of so many people losing their jobs or being furloughed and there was that worry of being last in, first out. I can't thank ForrestBrown enough for how relaxed they made me feel. They put my mind at ease – even though I was relocating and moving jobs in a pandemic. They called and emailed me to put my mind at ease and let me know that it was still full steam ahead with the onboarding. They even sent a little handwritten card through the post saying that they were looking forward to me joining the team in May, which I thought was such a lovely little touch.
Jim: The interview process consisted of an application and an assessment day. I feel like the assessment day gave me a good sense of the company ethos – it was relaxed and inviting.
ForrestBrown is proud of its culture – it's one of the things that really defines the business. Has it been hard to get a sense of what it's like since you're working remotely?
Jim: Because of all the different communication tools, I have a good feel for the culture in the company. It feels like an ethos of positivity and inclusion, which all feeds into doing a good job for our clients.
"It feels like an ethos of positivity and inclusion, which all feeds into doing a good job for our clients."
Pippa: Personally, I wasn't prepared for the extent of kindness I've experienced at ForrestBrown. The frequent celebration of individual and collective achievement is motivating and really instils the shared purpose.
Laura: Yes, you can really get a feel for the culture – even remotely! There's such a collaborative, 'all for one and one for all' feel. Everyone works as a team to deliver excellent work on behalf of our clients. They also really look after their employees, we have regular wellbeing newsletters, pub quizzes and an hour off work on Wednesdays for 'Work out Wednesdays'.
Pippa: It's different workouts like yoga or bootcamp hosted by an external person. I've done them all.
Laura: They even sent out personalised lockdown care packages to every single employee's home – which is crazy. Mine had a face mask, candles, nail files, sweets and even personalised chocolates with my initials on. It's the little things like that that really make ForrestBrown stand out. I couldn't be happier that I filled out that initial application form back in November – best decision ever.
Last but not least – as a new starter, what would you say to someone thinking about joining ForrestBrown?
Laura: Go for it. I know it's a strange and worrying time, and it may feel safer to stay where you are rather than to change jobs, but if you're considering applying then go for it. Take the leap. I promise you won't regret it.
Jim: Practically speaking, the assessment day is tough, so do lots of research and preparation. The people team goes to great lengths to make it as easy as it can be to perform well but they want the best people, so they expect a lot. I would say, though, that any effort you put towards getting a place at ForrestBrown is well worth it.
Pippa: I just couldn't imagine a nicer place to work. If culture and acceptance is important to you, look no further.