What makes ForrestBrown a company like no other? Our people, of course. They're the technical firepower giving our clients expert advice. They're the bright minds behind every brilliant solution. They're what makes us who we are.
It's why we want to continue hiring the best. Not just people who are technically great at their job, but the people who will have the best interest of the business at heart – so that we can grow the ForrestBrown we all know and love.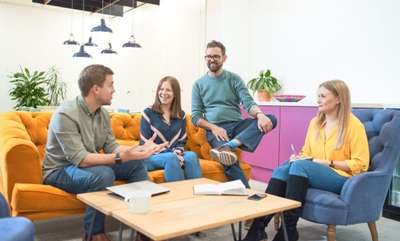 The application process
"It was a really nice experience applying to ForrestBrown! I was drawn in to apply to ForrestBrown initially because the culture of the company really shone through on the website. After working in a couple of very corporate jobs, I wanted to work for a company that was exciting and fast-paced, but with a fun, sociable culture." – Emma Cohen, Tax Consultant. Joined January 2021.
Step 1: Take a look through our vacancies on Gradcracker to find your dream role. Once you have, click the Apply button.
Step 2: Create an account, fill in your details and answer two main questions: why you are the perfect person for the role and why did you choose ForrestBrown. Our top tips? Do your research, think about your answers and don't be afraid to sell yourself.
"Reflect on some key skills that you might have to demonstrate or discuss. How do I work in a team? How do I prioritise? How do I influence others?Most importantly for any part of the assessment process – bring the version of you that you're most comfortable with. ForrestBrown is a company that wants you to be you." – Susan Olalemi, Business Development Associate. Joined January 2020.
Step 3: After we've received all applications, we'll narrow them down into an interview shortlist of the best candidates. Depending on the role, you may be asked to do some of the following:
One way video interview – remotely answer some questions via a video platform. These won't be technical questions. Instead, they'll give us a flavour of your personality, attitude and your ability to think on your feet.
Face to Face interviews – have a conversation with some ForrestBrowners to help us understand more about your skills and experience. Hear about the challenges and opportunities in the role, and get the chance to ask any questions you may have. Meet different ForrestBrowners throughout the process including those you'll work with directly.
Assessments for cohorts such as tax associates – take part in a range of assessments relevant to the role. This could include a group exercise to see how well you work in a team, a practical work-based exercise and an interview. There will also be plenty of chances to socialise with other ForrestBrowners and find out what your day to day here could look like.
Presentations and practical assessments – for some roles, you may be asked to take part in a practical assessment, present on a topic, or come prepared to discuss a specific subject. The task will reflect what you'll do in the role, allowing us to assess your practical skills which gives us an idea of how you'd approach a task, as well as help you understand more about what's required in the role.
"I had a second interview with two of the directors, where I was asked to prepare a presentation aligned to, but not within, my industry experience. This was a great opportunity to demonstrate my broader understanding of associated fields, as well as my way of undertaking work outside of my comfort zone. On reflection it was a good test of my adaptability and interest in broader themes, which is very relevant to my day-to-day role."
– Gareth Randle, Sector Specialist. Joined January 2020.
Whilst we love to be able to meet potential new ForrestBrowners face-to-face, we know that this isn't always practical. We have lots of tools and platforms we can make use of to take our interviews and assessments online for your safety and convenience.
Throughout the process, we'll keep an open dialogue so that you have the opportunity to ask any questions you have. If you've taken part in one of our assessment activities and have not been successful, we'll always offer you some feedback designed to help you understand our decision making process and to help you improve for the future.
"I had two interviews and an assessment afternoon. Everyone that interviewed me was really lovely and gave me a sense of the type of people I'd be working with every day. Throughout the interview process, Sarah from our People Team was just a phone call away to answer any questions."
– Emma Cohen, Tax Consultant. Joined January 2021.
It's a match
If it's the right fit and we make you an offer to join us, you can onboard securely and with ease via our Applicant Tracking System. As part of that process we will always ask for two professional referees, check your identity, your right to work in the UK, and verify any professional qualifications you may hold. We may also ask for some additional voluntary information to satisfy our regulatory requirements, and for some roles there may be further checks. You can always chat to the Talent team directly if you have any questions.
The start of something amazing
After that, all that's left is for you to become an official ForrestBrowner. All new starters will get a personalised induction timetable tailored to get you up and running with confidence – complete with a dedicated buddy to help you settle in. We'll also invite you to some great events within your notice period if possible so that you can meet your lovely new colleagues as soon as possible.